Sjaak's never fails to make it onto a vegan chocolate list, that's because their chocolates are organic, 100% plant-based, and available year-round. And their holiday catalogue is no joke! Choose from Melk chocolate truffles, dark chocolate truffles, chocolate stockings, eggless-nog chocolates, and—our personal favorite—chocolate snowballs, just to name a few. Sjaak's ships nationwide and is available in select grocery stores.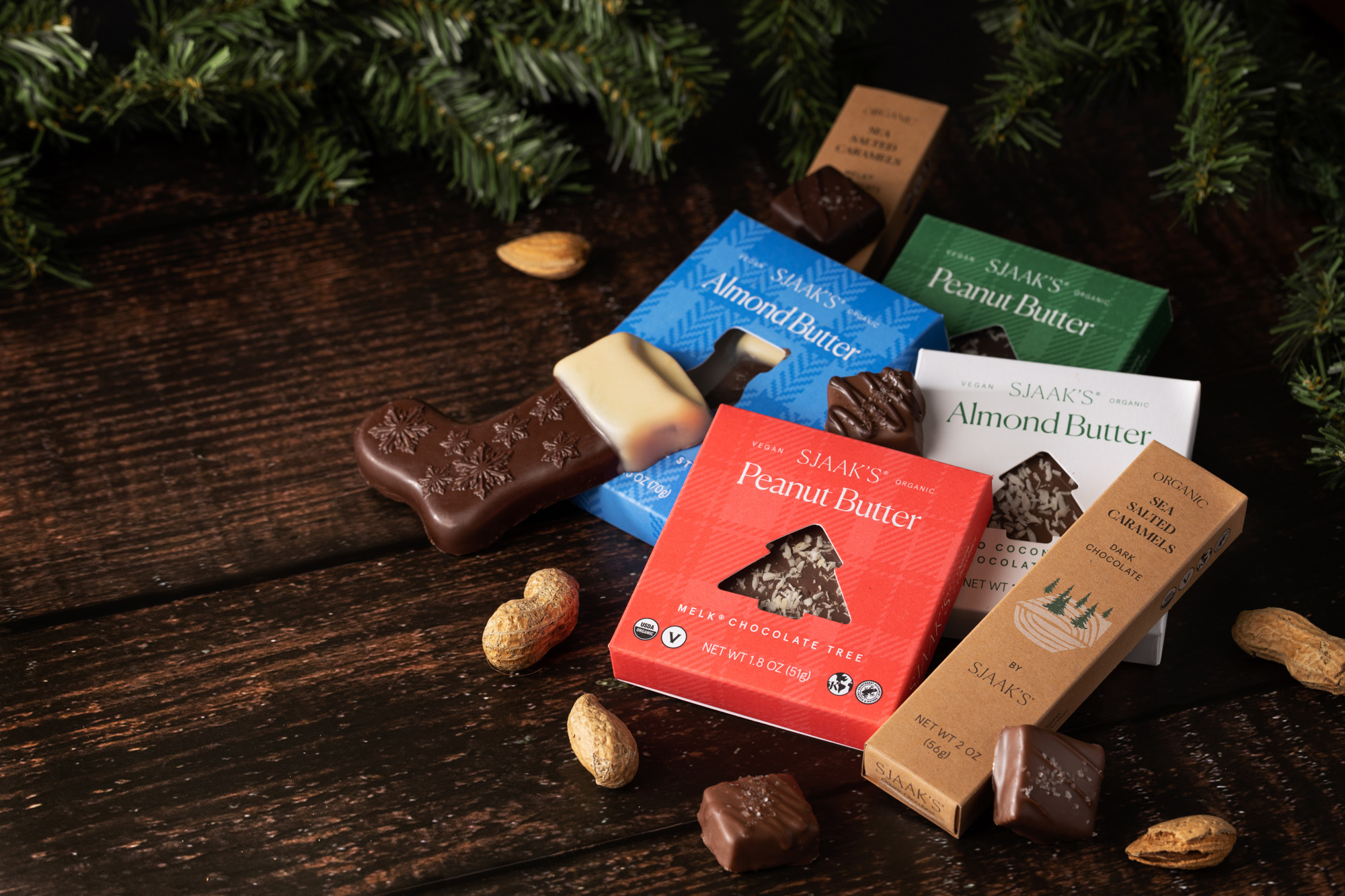 Did someone say peanut-free, tree nut-free, egg-free, soy-free, and gluten-free? No Whey! It can't be. Oh, yes, it is! No Whey Chocolate takes pride in being free from the nine most common food allergens, including dairy and eggs. Holiday offerings include Milkless Peppermint Bark, chocolate lollipops in Christmas shapes, truffles, and even an Advent calendar that reveals a chocolaty treat each day!
Coracao Confections chocolates don't only taste good, but they are better for you and made with natural ingredients as well. Sweetened with coconut sugar, Coracao Confections chocolates offers a holiday vegan gift box which includes handcrafted truffles.
The Holiday Box assortment from Coco Jolie isn't just chocolate—it's a work of art! We're not kidding, it's hard to decipher the art from the chocolate, that is until you bite into one of them. These beautifully curated chocolate bonbons feature Chocolate Ganache, Salted Caramel, Passion Fruit, and Cookie Butter flavors. The fun doesn't end there—Coco Jolie also offers seasonal holiday snowflake peppermint bark and caramel-filled Hanukkah gelt as well.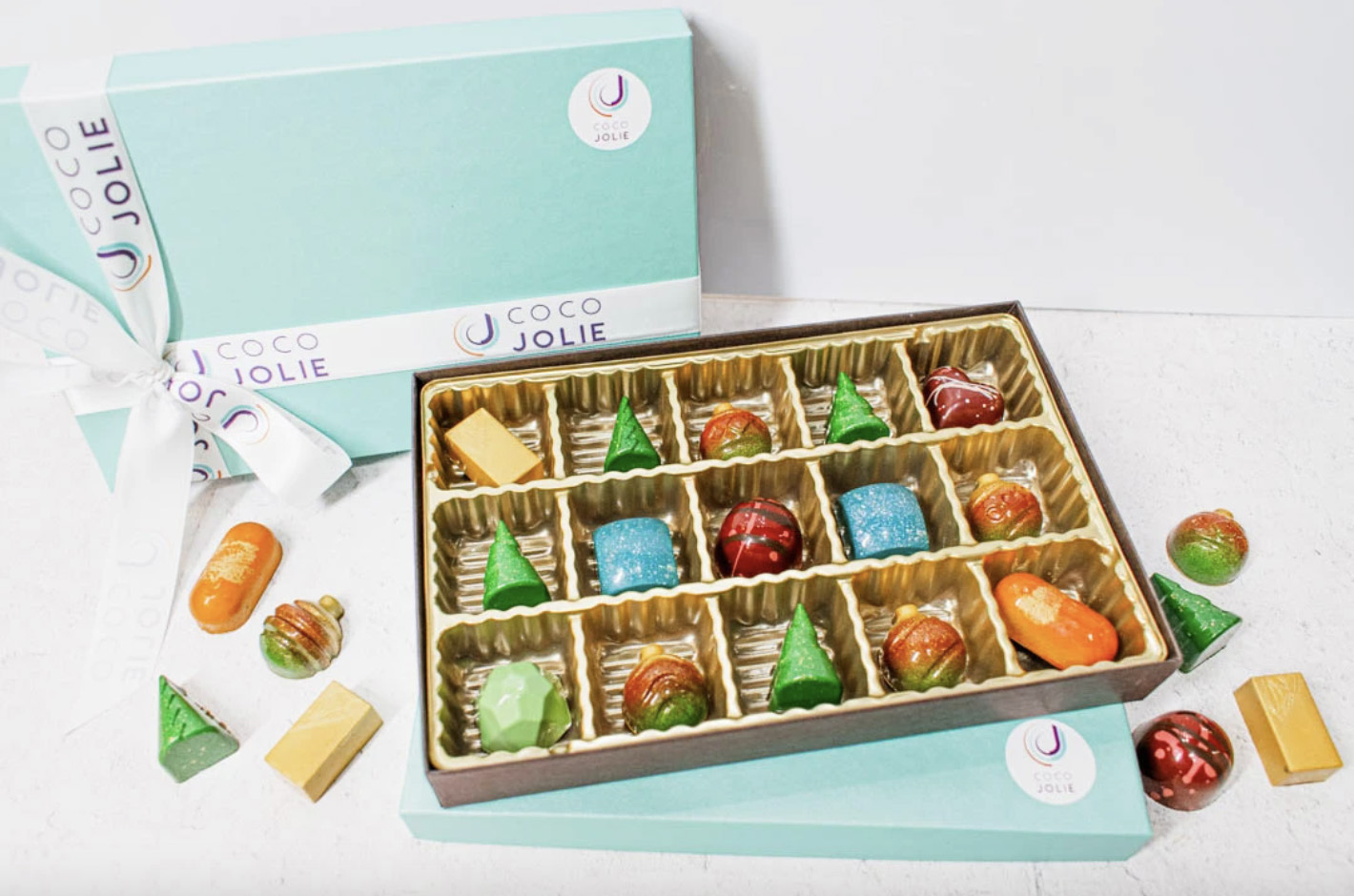 Raaka is known for its far-out chocolate bars that will make any chocolate lover happy. Raaka's selection of chocolate bars includes Waffle Cone, Bananas Foster, and Snicker Doodle, to name a few. Raaka is also bringing back their wildly popular Tahini Swirl and Pumpkin Swirl flavors this holiday season! Oh, and did we mention that they even make hot chocolate!? This winter will be extra cozy, thanks to their Mind Unwind Mushroom Hot Chocolate. This hot chocolate is produced in collaboration with Plant People and features calming medicinal mushrooms with Raaka's famous single-origin unroasted dark chocolate.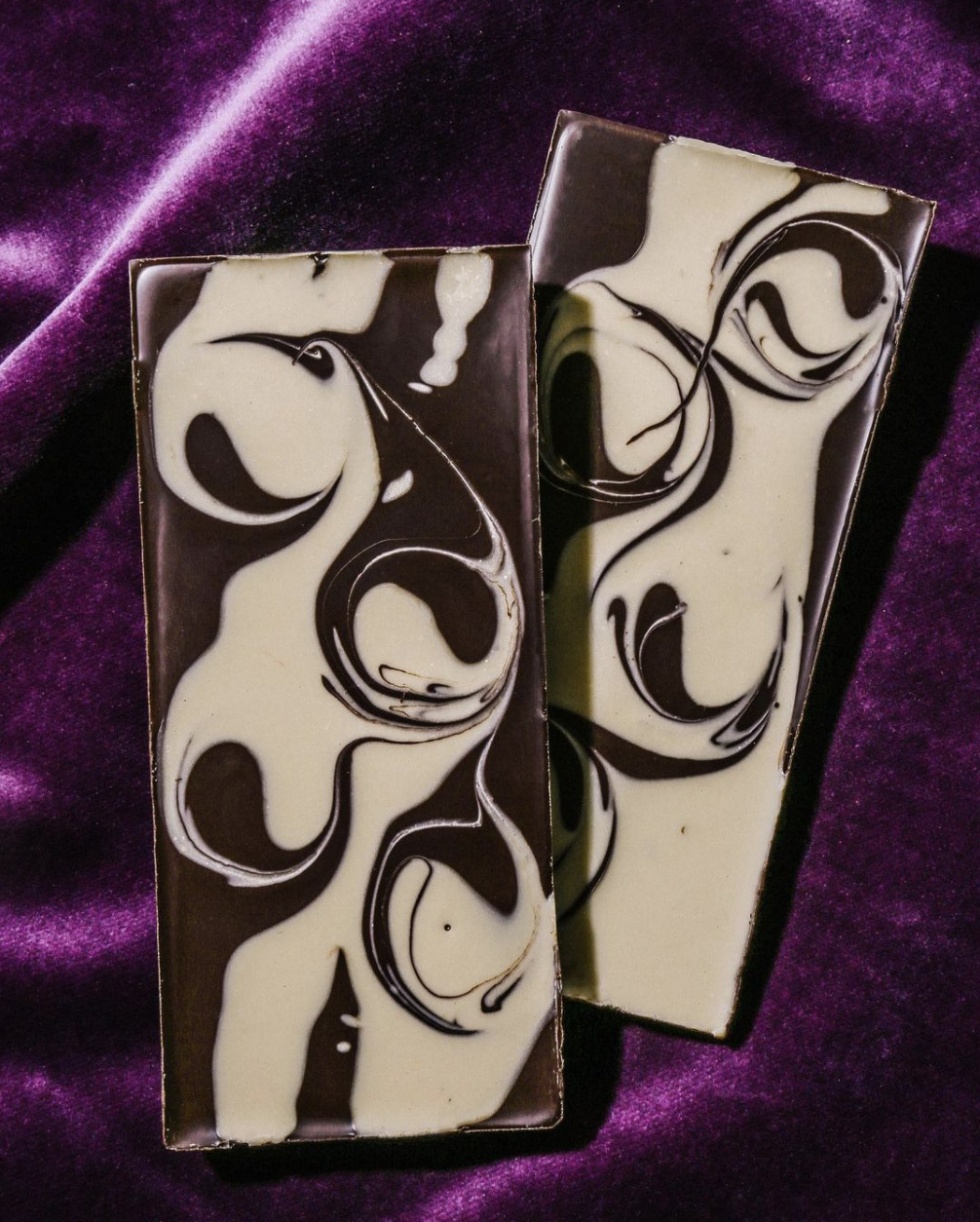 Okay, so here's the thing about Lagusta's Luscious chocolates—they taste amazing and contribute to great causes. Lagusta's ingredients are from local farmers, and their packaging is 100% post-consumer recycled paper boxes. Seasonal offerings include a Winter Wonderland Box, a Hazelnut Sugar Plum Bar, and Magic Drinking Chocolate Spheres.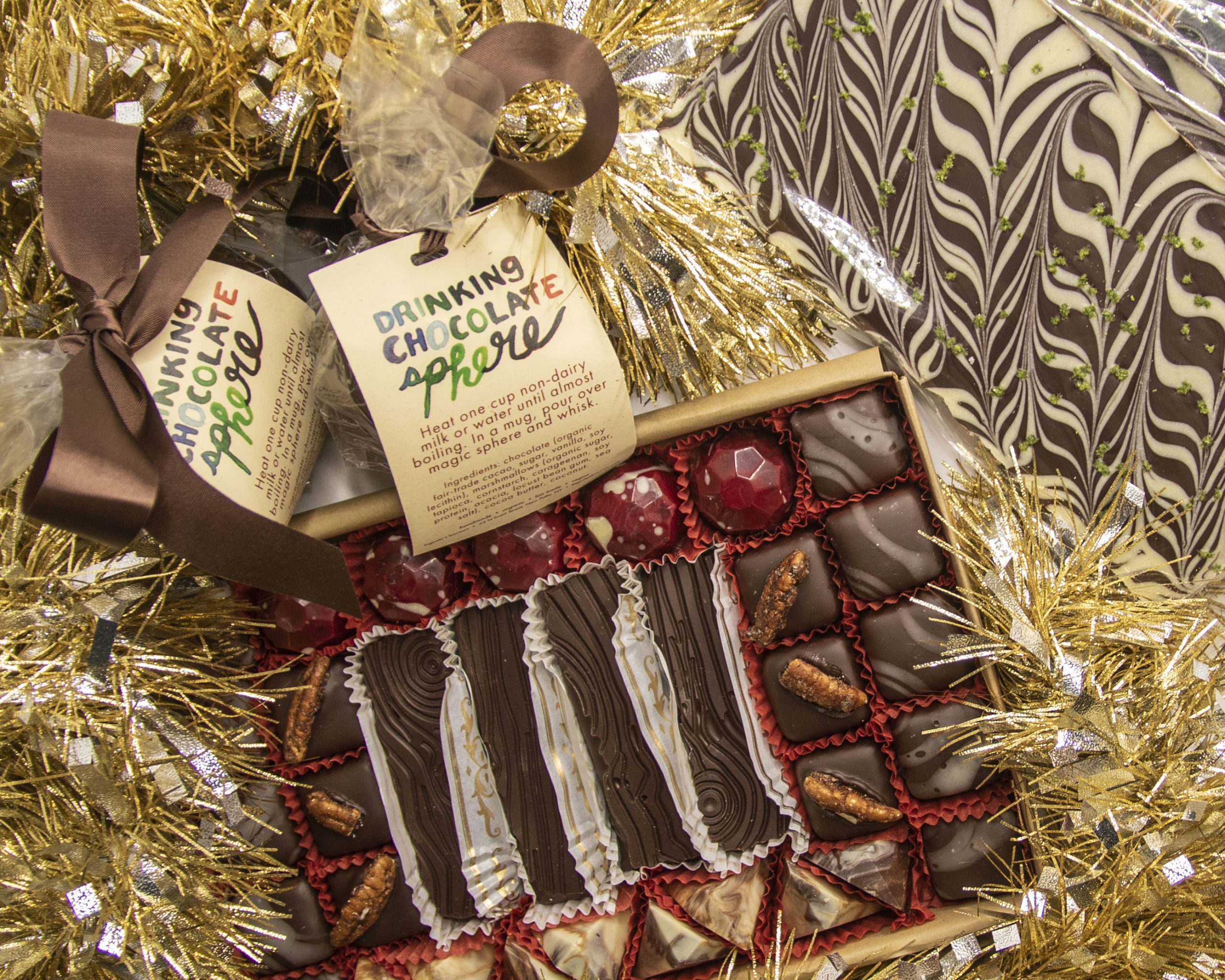 Must. Eat. Chocolate. Immediately. Doctor's order! But seriously, RX Missionary Chocolates is founded by a naturopathic physician, hence the name. This holiday season, you can pick up a custom box of handcrafted vegan truffles that includes flavors such as Blood Orange Cardamom truffles, Candy Cane Crunch truffles, and more.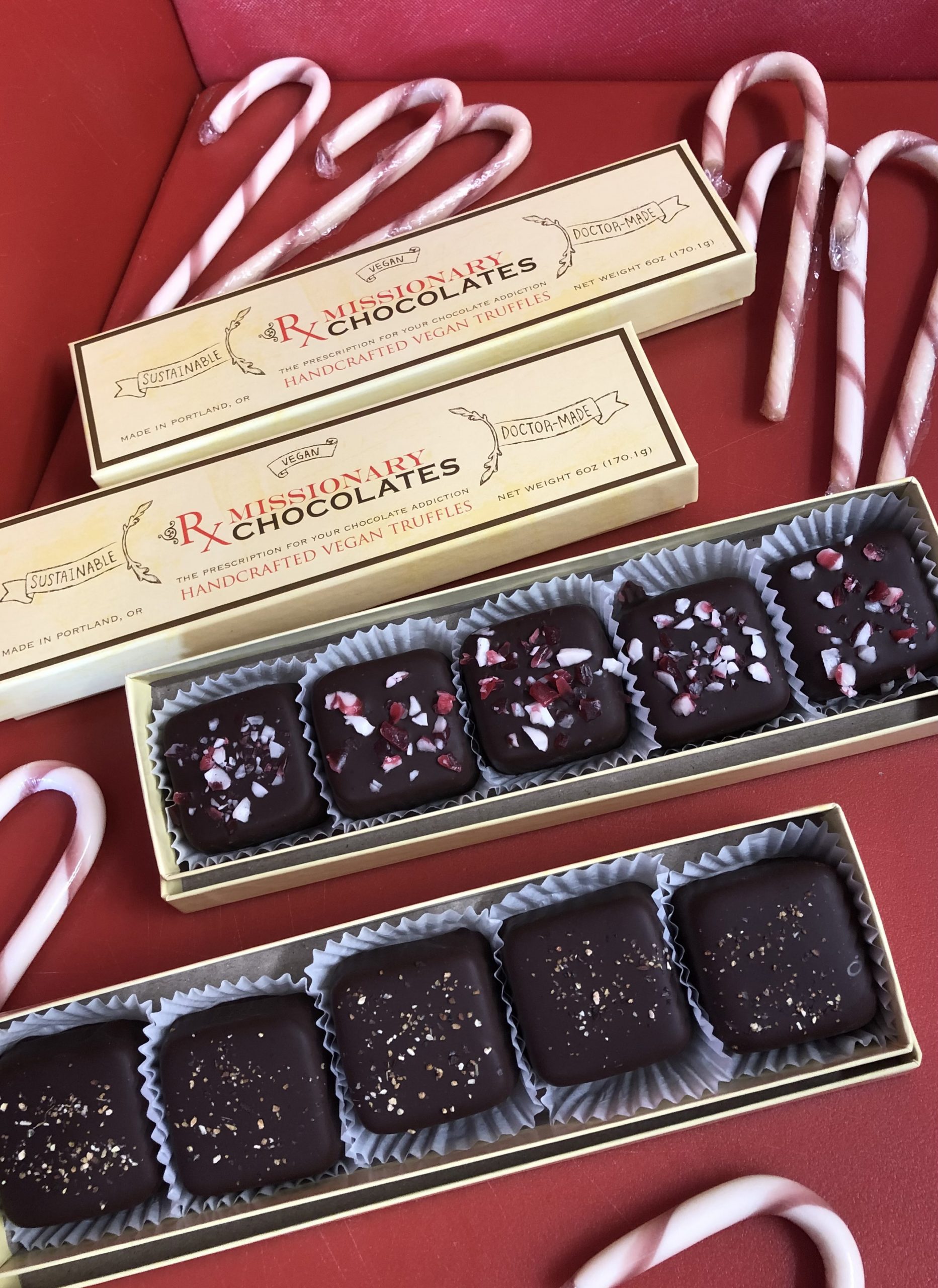 Casse-Cou may be the new kid on the block, having just founded in 2021, but don't let that deter you from their incredible plant-based offerings. Headed by Matthew Kenney and Sebastian Brecht, Casse-Cou is a 100% plant-based chocolaterie specializing in artisanal, innovative chocolates. They currently offer a selection of truffles, pralines, and bonbons which can be purchased individually or boxed. Flavors are plentiful and include Marzipan, Chai Latte, Banana Cognac, Raspberry Violet (Vegan) Milk Chocolate, and so much more! You can mix and match to customize your selection, or let the Casse-Cou team choose for you with their decadent Chocolatier's Box.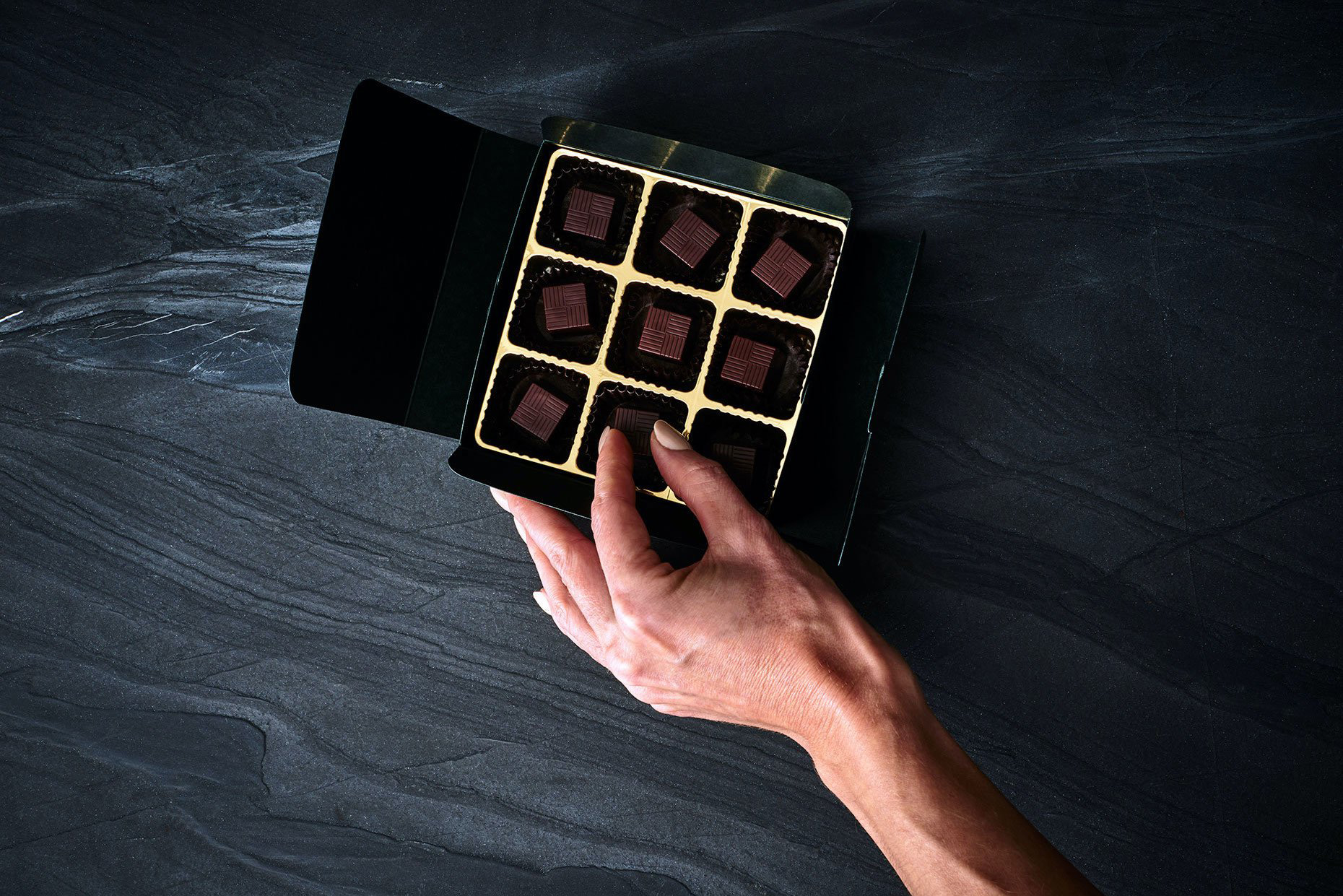 Photo credit: Adrian Mueller
Fine & Raw Chocolate abides by their mission statement: "Save the world through silliness and chocolate!" This completely organic, vegan, gluten-free, and soy-free chocolate is known as the finest in Brooklyn thanks to its clean ingredients and sustainable footprint. The Fine & Raw chocolate lineup includes bonbons, truffles, and hazelnut butter spread, to name a few. You can order a Bonbon Deluxe Gift Set, Truffle Gift Set, or another artisanal treat for the holidays.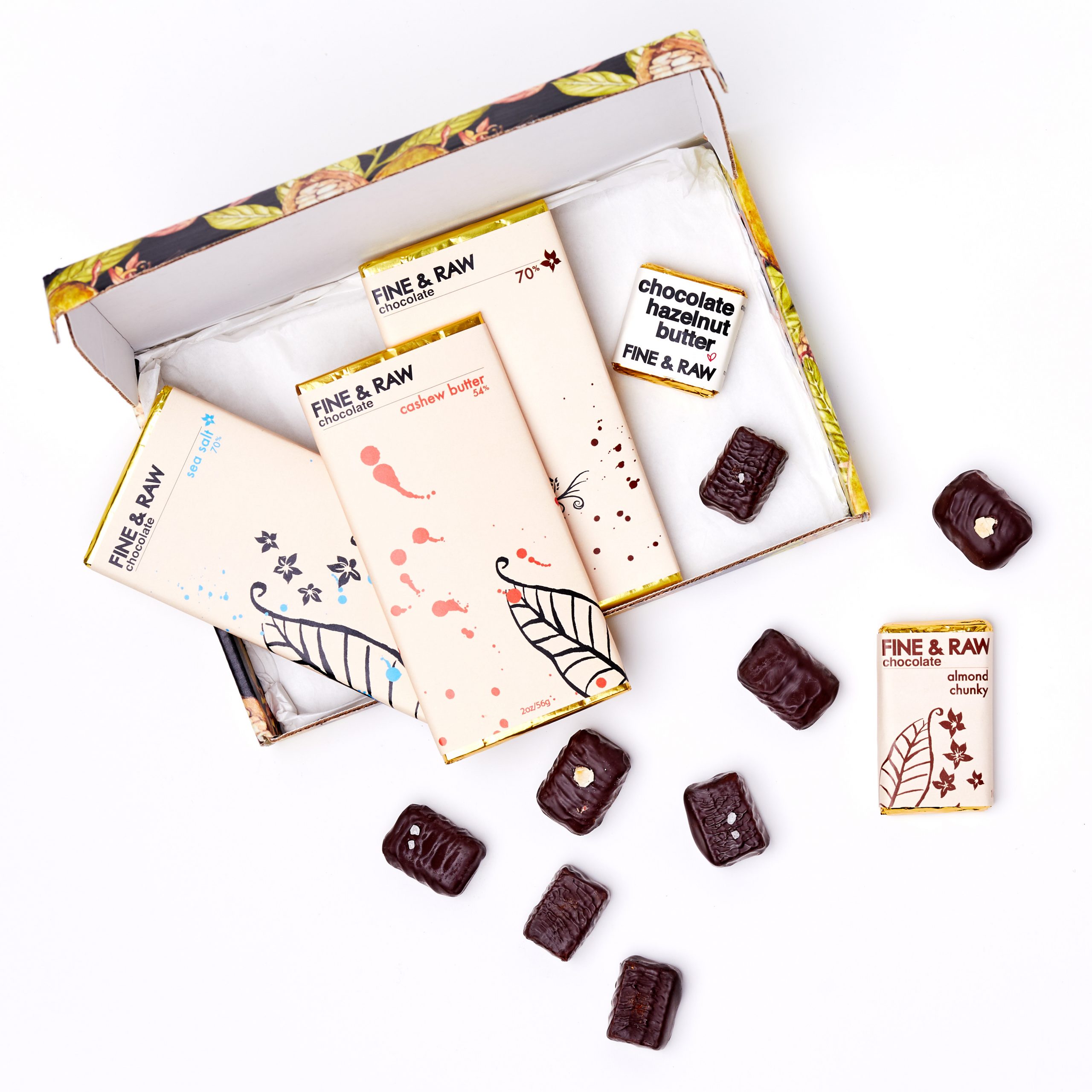 Vegan-Friendly
While Compartés chocolates are not all vegan, their plant-based line of chocolates does not disappoint. They offer Dark Chocolate Gourmet Gift Boxes, including vegan chocolate-dipped apricots, pretzels, pineapples, coconuts, oranges, almonds, and pecans. They also have an assortment of vegan chocolate bars that feature vibrant hand-designed artwork which makes for the perfect holiday gift—be sure to look for their seasonal peppermint bar and pistachio bar.