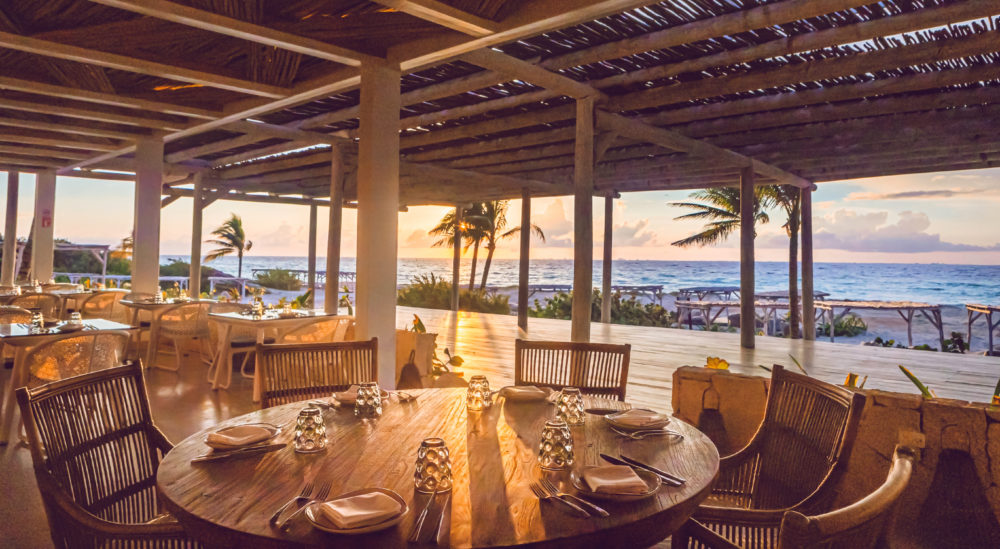 (Photo Credits: Palmaïa – The House of AïA)
This year, for World Vegan Day (Nov. 1), we want to celebrate at Palmaïa – The House of AïA, a vegan paradise nestled between the sandy shores of the Caribbean and the lush jungle of Playa del Carmen! This eco-friendly plant-based-first resort encourages plant-based dining, both for health and environmental reasons and offers its guests 100% plant-based menus at each of its distinctive dining venues (with animal-based protein substitutes) and all vegan suites, free of any animal products (amenities or furniture). 
It also practices "Gifting Lifestyle" where guests can indulge in everything the resort has to offer (from one of the most comprehensive transformative wellness experiences, Architects of Life, led by Palmaïa's healers to the Rituals of Sound program – an interactive music discovery platform) without the hassle of exchanging currency once at the resort.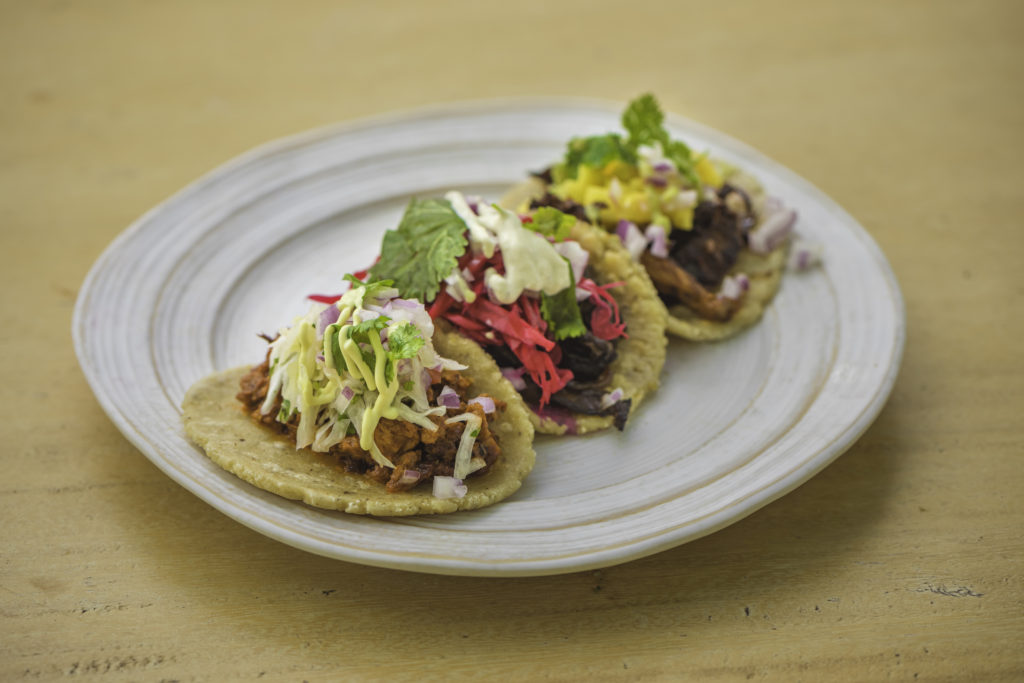 In celebration of World Vegan Day, Palmaïa's executive chef, Eugenio Villafaña has put together a flavorful plant-based Tacos Al Pastor featuring charred tahini garlic mushrooms soaked in a flavorful achiote marinade to celebrate the vast gastronomy of Mexico. 
We got a chance to ask Chef Eugenio a few questions about his experience working on this exciting new menu at Palmaïa.
*What inspired you to create the new plant-based Tacos Al Pastor?*
Believe it or not, plant-based foods tend to have a wider range of flavors and textures than traditional foods. This constantly inspires me to take traditional Mexican recipes to a higher level, through plant-based ingredients. In Mexico, especially in the world of chefs, it is not yet well-conceived that Tacos al Pastor could, or even should, be served with ingredients other than the traditional ones they are normally prepared with. Our customers often compare these tacos and, without a doubt, both vegan and non-vegans agree these tacos are beyond delicious, and the non-vegans even admit that they are tastier than the traditional recipe!!
*How do you decide the flavors to combine for your dishes?*
After having traveled all over the world, I instinctively bring those flavors learned abroad to my palate again. I may forget a name, but not a flavor or combination of flavors I have experienced. I learned that I have to taste everything before cooking it, while prepping, while cooking, all by itself and then all together, an invaluable lesson learned from my mom. Lately, I have been extremely inspired after reading the book "The Flavor Matrix", a gift from one of our customers.
*Do you try to cater to a non-vegan audience?*
As a chef, as Palmaïa's concept, food and menus are designed plant-based first, I have gained the trust of our vegan guests. Nonetheless, honoring a deep awareness of community, EVERYONE is welcome at Palmaïa, not just vegans.
Palmaïa is a stunning property, so it's not surprising many non-vegans are also interested in staying with us. They may understand the concept, but they do have their own needs, so, we are open to providing them with food suitable for non-vegans.
It's vital that our guests know that, internally, in each of our kitchens, we have very strict procedures so to avoid any cross contamination while storing, cooking or serving our foods.
At Palmaïa, we are not looking to veganize guests, but admittedly, everyone falls in love with our plant-based concept. Quite often, we receive emails from our guests, once home, as they are wanting to replicate our flavors, or they simply want to share that they are trying a vegan lifestyle after staying with us. That is so rewarding!!
*Do you locally source your ingredients?*
I would love to say yes; however, climate and geography play an important roll. This means we source as much as we can locally, and the rest, comes from trusted farms and suppliers from other states and countries, depending on the ingredients.
*How do you celebrate the vast gastronomy of Mexico through your food?*
Personally, I celebrate it by making it part of my menus. At the same time, per sé, I celebrate all foods.  To me, labeling foods per country or culture limits my creativity. I have a multicultural family, so I am not a single culture person and I love mixing unique flavors without those limitations.
I started traveling abroad at an early age. I learned that we all are one, and I don't really identify myself much as pure Mexican. I have allowed myself to be influenced by the different cultures I have had the privilege to meet and get to know, which are all reflected in my creations.
*What other eco-friendly practices do you implement in your culinary program at Palmaia?*
Avoiding single plastic usage as often as possible (super minimizing use of cling film and foil).
Enforcement of zero waste policy (making most of our foods from scratch).
Recycling.
Composting.
Reducing waste of energy sources (soaking legumes for shorter periods of cooking – plus other health benefits, soaking pastas for a "pre-cooking" with a small amount of water instead of waiting longer to be cooked in gallons of boiling water, etc).
*What would you say sets you apart from other resorts in terms of your plant-based food offerings?*
To my knowledge, there are no all-inclusive resorts that offer nutritious plant-based menus made by top Chefs that not only cook for flavor and taste, yet also have a very high knowledge and understanding of nutrition, therefore providing our guests with delicious, healthy, and balanced dishes. Our guests go home feeling vibrantly amazing and refreshed after their stay at Palmaïa!
About Palmaïa's Plant-Based First Approach  
Palmaïa implements a plant-based approach to sustainability. Given that animal consumption is one of the biggest contributors to climate change, Founder Alex Ferri – a vegetarian himself – designed the property without the use of animal products, and Palmaïa is the first resort to offer 100% plant-based menus (with additional animal protein add-ons if requested) across all of its restaurants. The resort features four restaurants – or as they call them, Fruit of the Earth – (gastronomic Mexican, refined Mediterranean cuisine, Oriental fusion, and laid-back Caribbean) all featuring sustainably sourced plant-based menus. This includes the hotel's signature fine-dining restaurant LEK serving gastronomic Mexican; Mar de Olivio, a destination for redefined Mediterranean; the Oriental-fusion restaurant Ume, which merges Thai and Continental cuisines, and a rotating food truck that will serve the chef's experimental choice of the day. This plant-based culinary programming is more advanced than most hotels because of the variety of options and the quality of ingredients and innovative thinking. The team makes everything on location and from scratch, including vegan cheeses, sauces, and butter to a variety of dishes featuring local, seasonal ingredients such as beet carpaccio, vegetable tacos and empanadas, and vegan kimchi. In addition to plant-based menus, all rooms at Palmaïa are vegan, with no animal products (amenities or furniture) in them.
About Palmaïa – The House of AïA 
Opened in January 2020, Palmaïa – The House of AïA is a newly constructed beachfront retreat offering its guests one-of-a-kind immersive jungle and beach experiences on the coast of Mexico's Riviera Maya. The resort is nestled between the sandy shores of the Caribbean and the lush jungle, where the spa, Atlantis, is located. It includes treatment rooms featuring floor to ceiling windows, two fitness centers, including an open-air gym, a Temescal, a natural cenote, and various meditation spaces all located between wild mangroves and century old rock formations in the heart of the Mayan jungle. Palmaïa's Architects of Life program includes transformative wellness experiences for the mind and body such as sound healing, gravity control, multi-musical vibration, Vipassana, sungazing, various practices of yoga, mandalas and more – all led by the property's on-site healers. Music is a key component to the guest experience with Palmaïa's Rituals of Sound program. The resort hosts an impressive line-up of deep fusion electronic DJs, live acoustic artists, and interactive music acts on a daily basis. Palmaïa actively participates in a 'gifting culture' and all guests enjoy complimentary access to 24-hour room service, unrestricted access to four restaurants on property (all with parallel plant-based menus), pool and beachside service, bike share, nightly turndowns, and a personal butler – or Nomadic Guide – to attend to guests' needs during their stay.