It's the time of year where absolutely nothing changes in Southern California—except, of course, the addition of pumpkin-flavored sips and treats! This season, we've found some pretty rad ways to gorge on these gorgeous gourds. Here's a list of 24 stops for pumpkin-flavored vegan eats and drinks in LA.
Multiple Locations
This juicery presents two fresh takes on the fall flavor. First up for Pressed is their fan-favorite Pumpkin Freeze, a soft serve-like treat that's composed of seven simple ingredients. You can deck it out with whatever toppings you'd like, including vegan marshmallows! The honey and chocolate drizzle are the only non-vegan toppings. The second pumpkiny item at Pressed this year is a brand new Pumpkin Pie Smoothie Bowl dressed in bananas, granola, pecan praline pieces, and granola butter.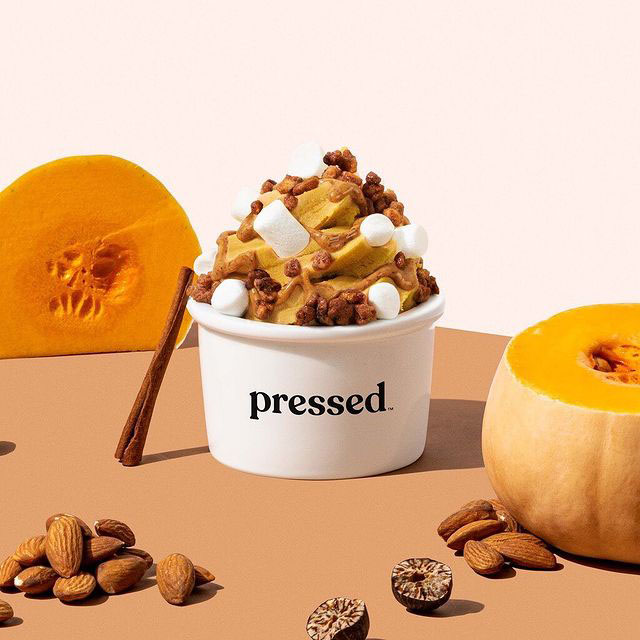 Beverly Hills
Feeling French? Head over to Chaumont Vegan for a Pumpkin Cream-Filled Croissant and matching latte! Inside the croissant is a glorious amalgamation of organic pumpkin, seasonal spices, and house-made vanilla cream. On top, there's a gorgeous maple glaze and edible gold leaves. To drink, go for the Pumpkin Spiced Orange Blossom Latte topped with vegan whipped cream and marshmallows.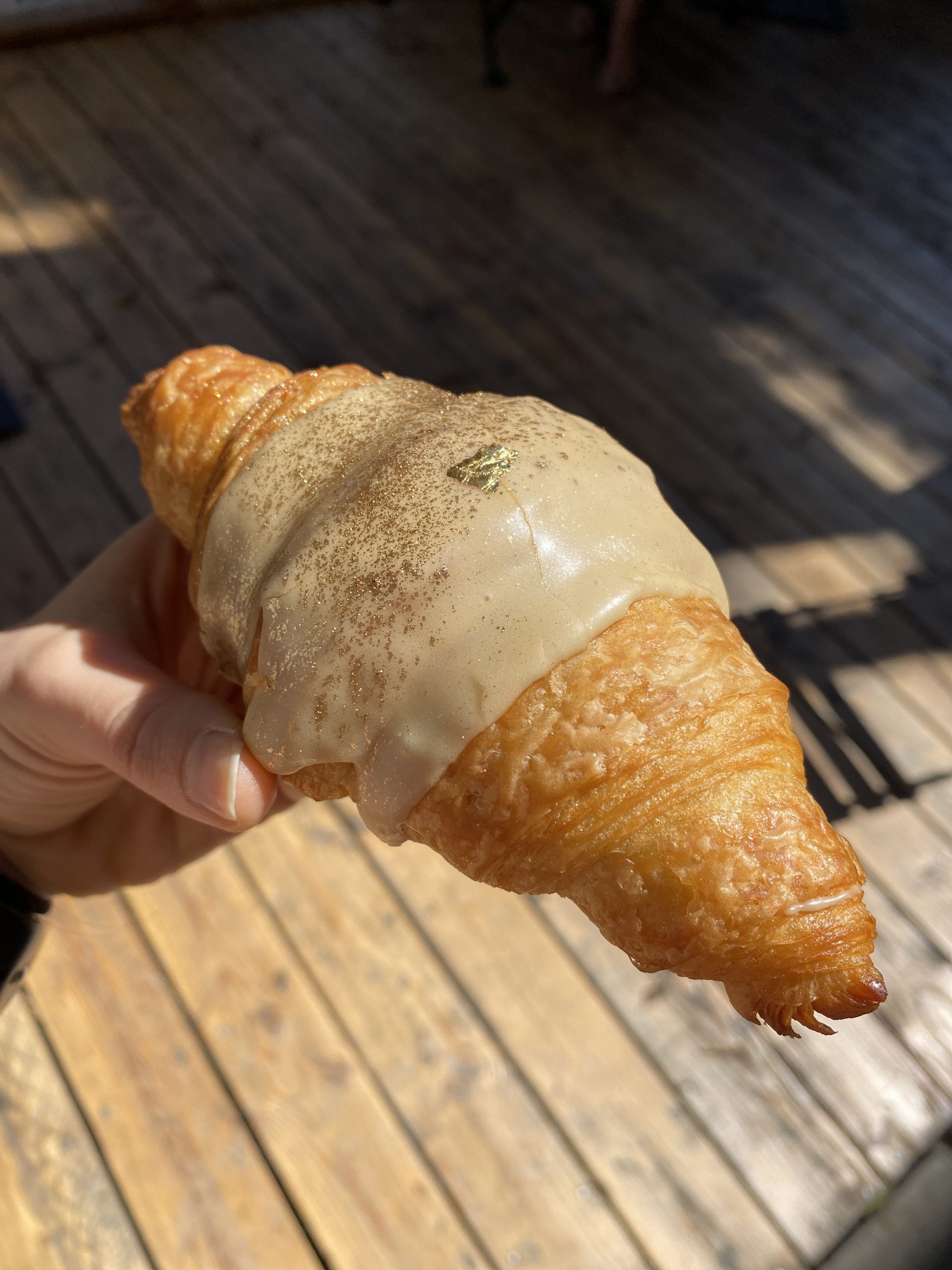 Pop-Up
Are you over the traditional PSL? Track down this vegan pop-up for a more innovative pumpkin-flavored drink! This month, Wicked Garden Cafe is serving up pumpkin horchata, pumpkin white chocolate espresso, and pumpkin chai beverages.
Glassell Park
Little Barn Coffee House always hits the spot—no matter the season! For all you pumpkin-loving vegans, be sure to swing by this charming vegan coffee shop to pick up a Pumpkin Spice Latte or Pumpkin Spice Cold Brew. Oh, and you didn't hear this from us, but you can actually order a PSL from Little Barn Coffee House year-round. Shh!
Beverly Grove, Culver City, Echo Park, Koreatown, & Riverside
Monty's Good Burger's Havok Harvest Shake is back! Made with creamy vanilla soft serve, organic pumpkin purée, and a special blend of spices with whipped cream and pie crust pieces on top, this drinkable dessert is bursting with autumn vibes. The limited-edition shake was made in collaboration with musician Davey Havok. A portion of the sales from the special menu item will be donated to Farm Sanctuary.
Silver Lake
Pumpkin pie is good and all, but have you tried the Pumpkin Cheesecake from Flore Vegan? It's rich, smooth, and oh-so-delicious! Some other desserts we've been loving from this family-owned restaurant include the Cinnamon Roll, Gluten-Free Carrot Cake, and Lemon Berry Cake.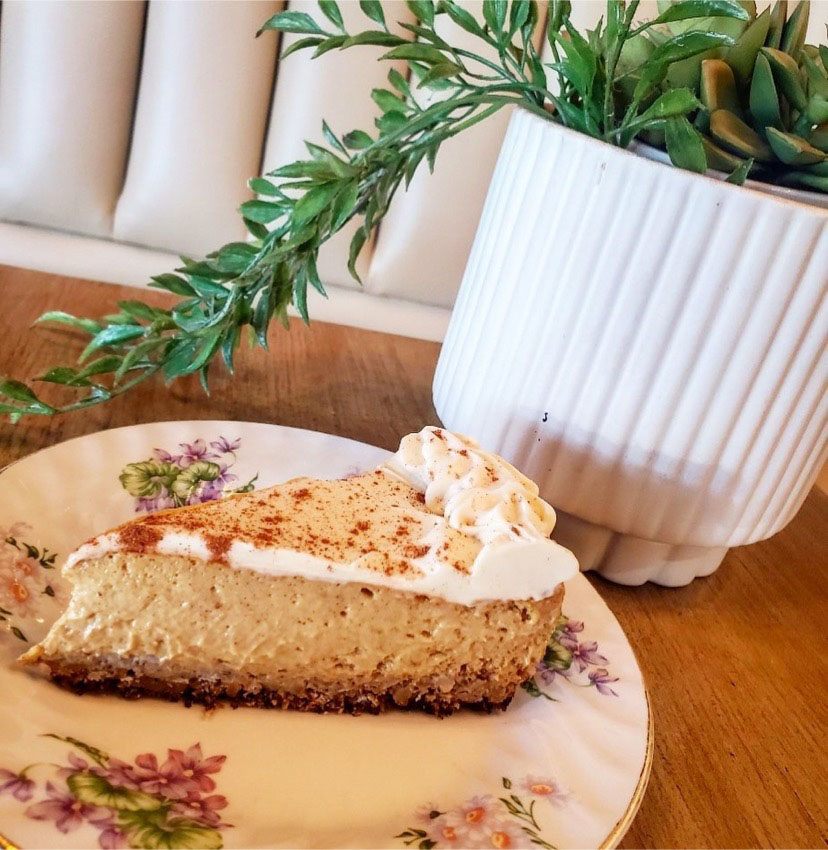 Westlake Village
Pumpkin Chia Cupcake Jars, Pumpkin Crumb Loaves, and Pumpkin Spice Donuts are just a handful of the festive vegan and gluten-free goodies to try from Karma Baker! Available at their storefront bakery, in select Los Angeles retailers, and online for nationwide shipping, there's no excuse not to get your hands on at least one of these desserts.
Pop-Up
If you loved Baked Vegan Vixen's Pumpkin Pie Cupcake from last year, you're in for a treat. Why? It's gotten upgraded to a full-size cake this year! Featuring organic pumpkin, house-made cream cheese, and spices galore, each moist slice is sure to get you in the holiday spirit. Oh, and did we mention it's topped in a mini donut, too?
Toluca Lake
The Pumpkin Conchas will be back in stock this October at Toluca Bakery & Cafe! Shaped like the iconic fall gourds, these adorable confections are great to have on hand for breakfast, snack, or dessert. This year, Toluca Bakery & Cafe will be adding Candy Corn Conchas to their pastry case as well.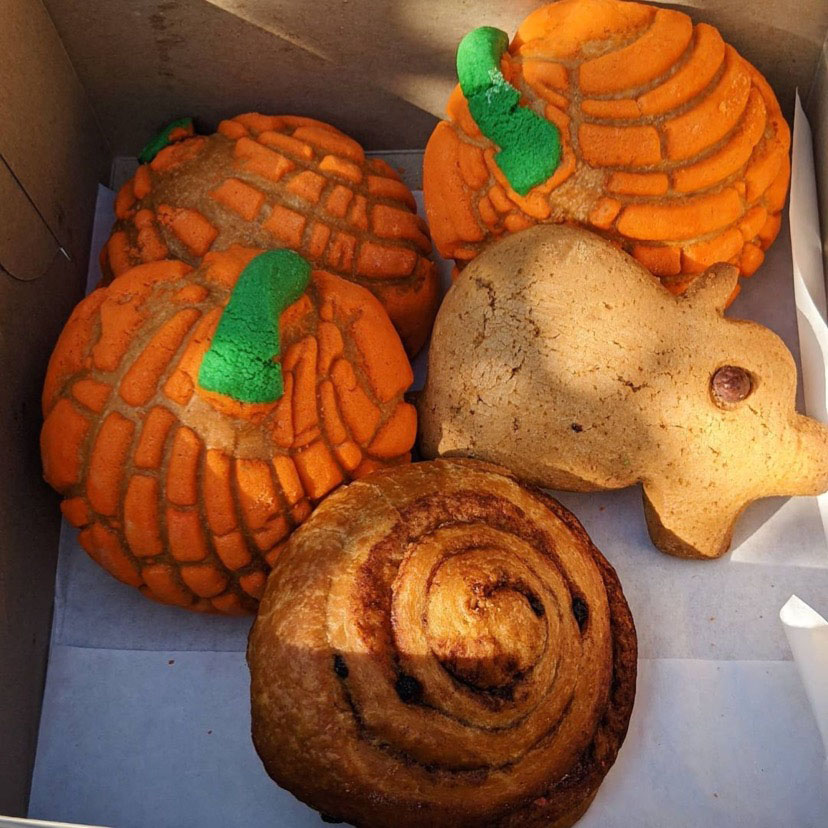 Photo credit: @lascomelonasveganas on Instagram
Long Beach
In addition to the classic treats like donuts, cookies, and cupcakes, Baked Vegan Sweets is offering a couple of pumpkin-flavored treats that are more rare and unique! What are they? Pumpkin Bread Pudding, Pumpkin Tres Leches, Pumpkin Cheesecake Pop-Tarts, and Pumpkin Spice Cinnabon Pastries. Please note: The bakery menu rotates regularly, so these items aren't always available daily.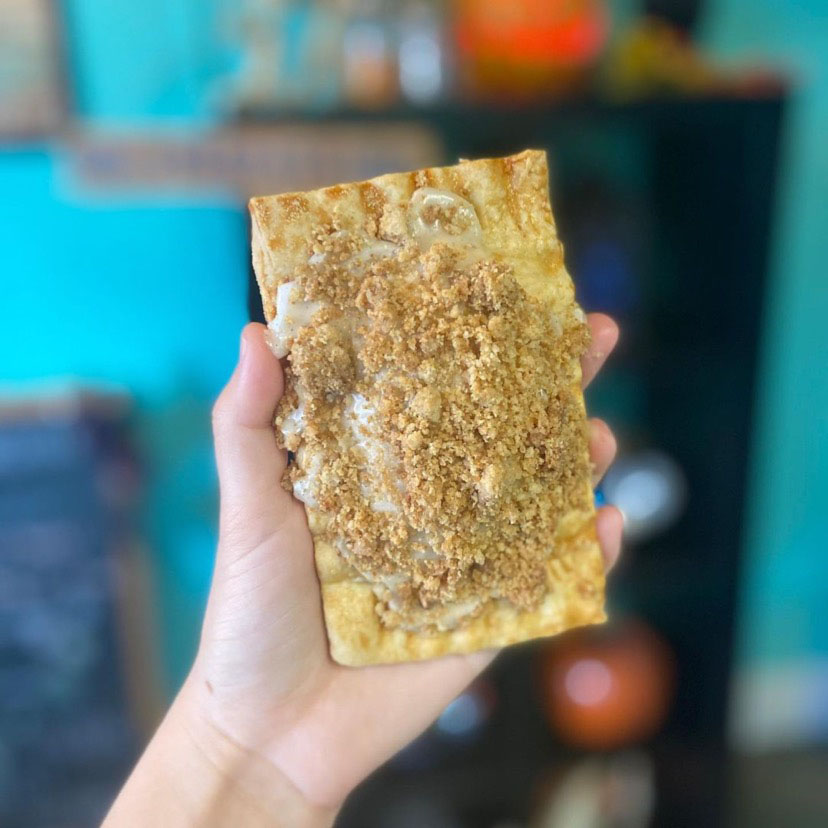 Glendale & Echo Park
Fall is fairly mild out here in sunny Southern California, which means it's the perfect weather for soft serve! This season, Yoga-urt is bringing back their cool and refreshing pumpkin spice soft serve flavor. Swirl it up in a cup or cone, add your favorite toppings, and enjoy! Want something dreamy and drinkable? Ask for a Pumpkin Shake!
Boyle Heights
If you like supporting locally owned businesses and eating tasty treats, Cake Girl is the perfect place for you! Nestled inside St Louis Drug Co., this charming bakery has pastry cases full of classic and seasonal allergen-friendly desserts. This fall, you can expect to find Pumpkin Vanilla Cupcakes, Pumpkin Spice Donuts, and Pumpkin Crumb Cake. Everything is vegan, gluten-free, soy-free, and nut-free.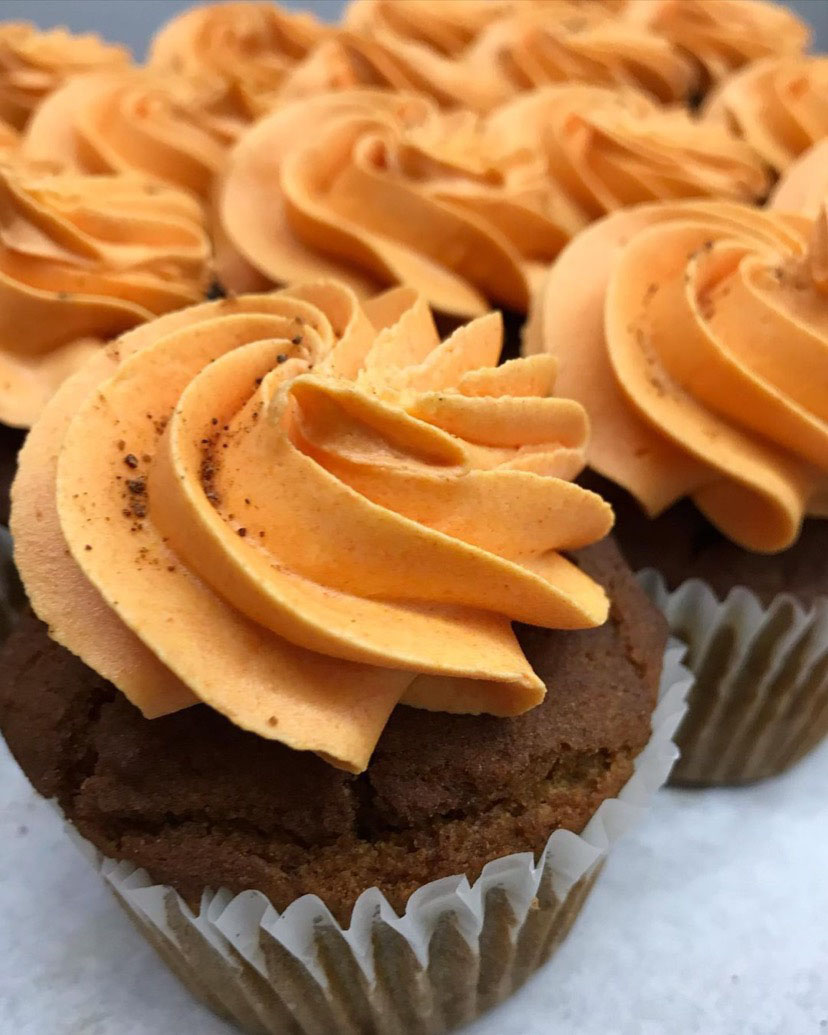 Delivery & Hapa Cupcakes in Fullerton
The Pumpkin Cookie Butter Cupcake from Two Birds Baking Co. is the answer to all of our fall dessert prayers. Featuring a spiced pumpkin cupcake topped with a gorgeous swirl of cookie butter frosting and a cookie butter cookie, these cuties are too good to resist.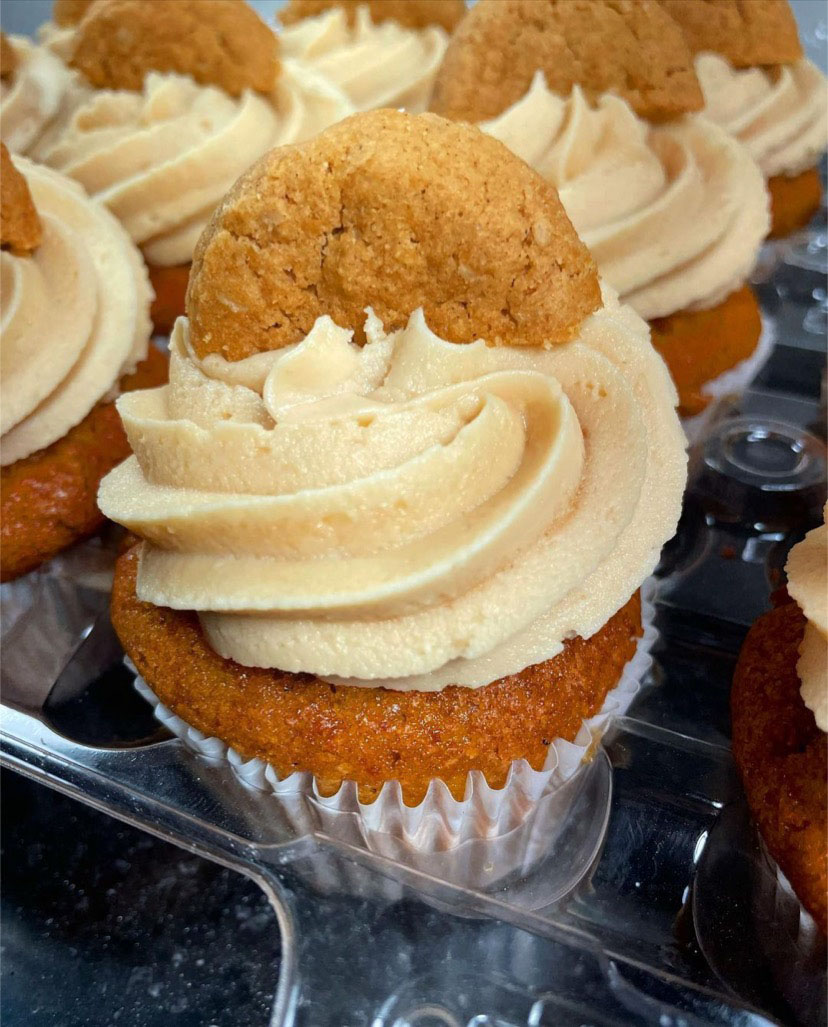 Santa Ana
Nothing's more comforting than a warm pocket of pumpkin! Uh––we realize that sounds a bit odd, but we're talking about the Pumpkin Empanadas from Soy Concha Bakery. While you're there, grab a few Conchas, Vegansitos, and Tres Leches slices.
Larchmont & Santa Monica
This vegan and gluten-free bakery is bringing back their fan-favorite Pumpkin Spice Donut for the fall! Some other rotating gourd-tastic offerings at Erin McKenna's Bakery include Pumpkin Bread, Pumpkin Caramel Muffins, and Pumpkin Pie!
Long Beach
Want to indulge in a plate of pumpkin cream cheese-filled French toast with whipped cream, candied pecans, and a sweet, browned, butter caramel drizzle on top? That's a no-brainer. YES! Then stop by The Wild Chive and order the limited-edition Pumpkin Pie Cheesecake Stuffed French Toast. It's insanely delicious.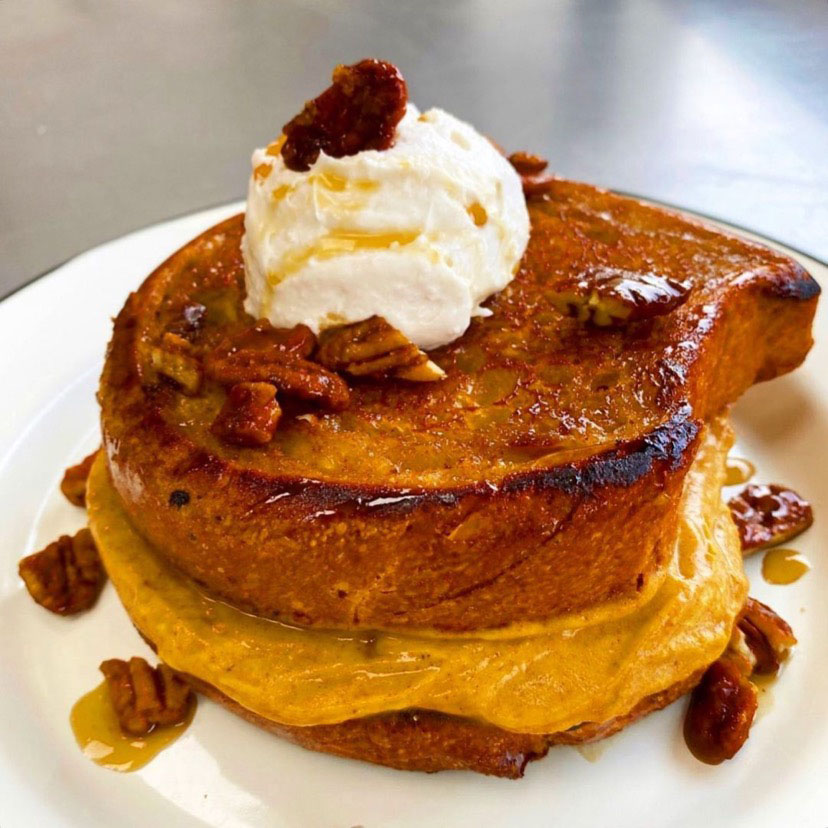 Hollywood
In case you missed it, Dear Bella Creamery (formerly known as Cocobella Creamery) now serves vegan soft serve and milkshakes! For the month of October, you can order swirls upon swirls of their PSL soft serve. Whether you're team cup or team cone, we'd suggest adding some toppings like salted caramel sauce and toasted almonds.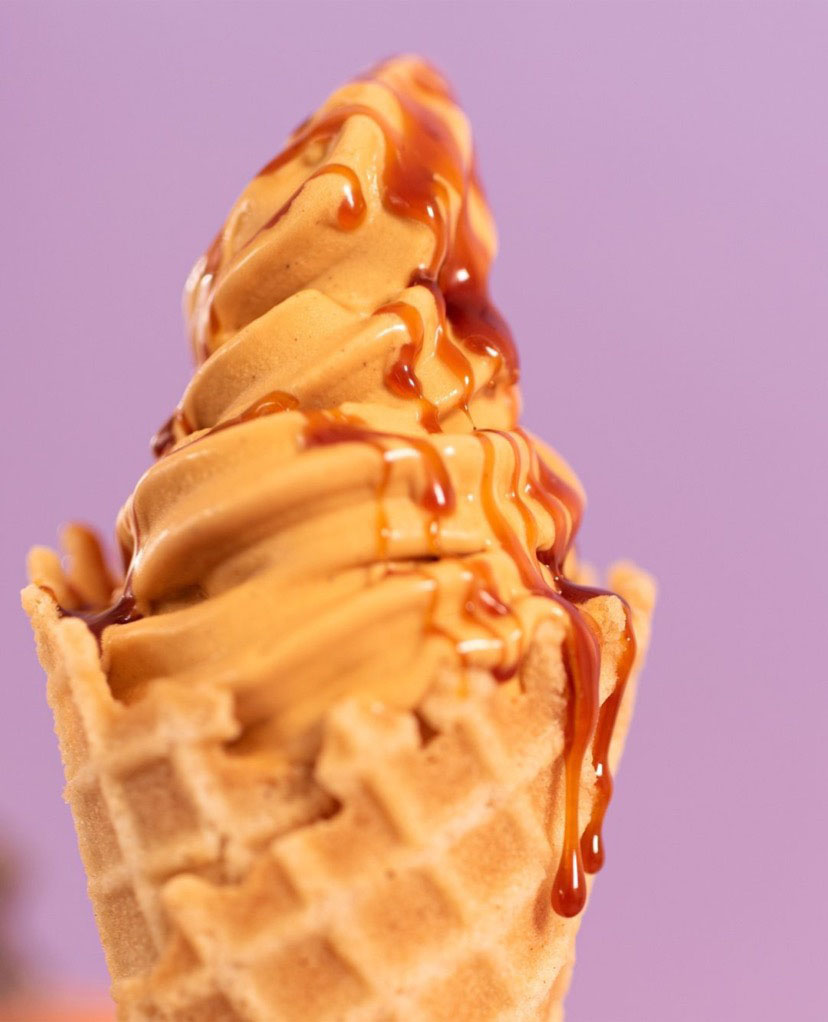 Mid-City, Culver City, Redondo Beach, & Long Beach
The Grain Cafe is the ultimate breakfast destination for autumn (and beyond)! To drink, get the Pumpkin Spice Latte that typically comes with an adorable design in the frothed plant-based milk. To eat, choose from Pumpkin Waffles or Pancakes. If you can't decide, try them side-by-side—VegOut style!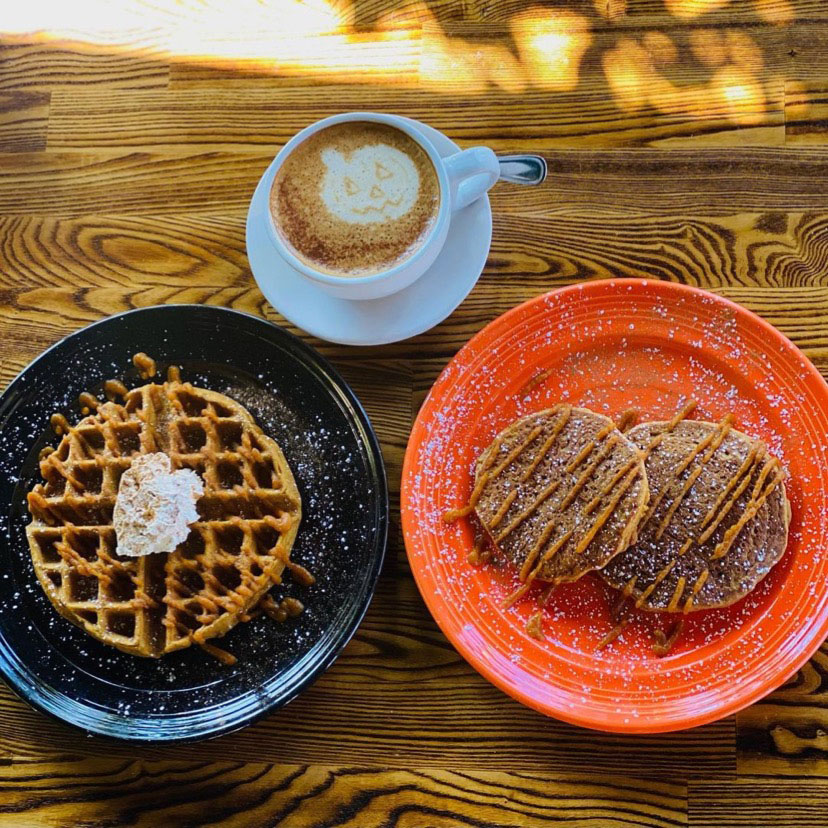 West Hollywood & Pasadena
This spot is home to some of our favorite vegan dishes in the city (the Breakfast Pizza is to die for)! This fall, that belief still rings true with their Pumpkin Pie and Pumpkin Cupcakes. Whether you stop by Real Food Daily to enjoy some grub for brunch, lunch, or dinner, make sure to try one of their pumpkin-flavored desserts.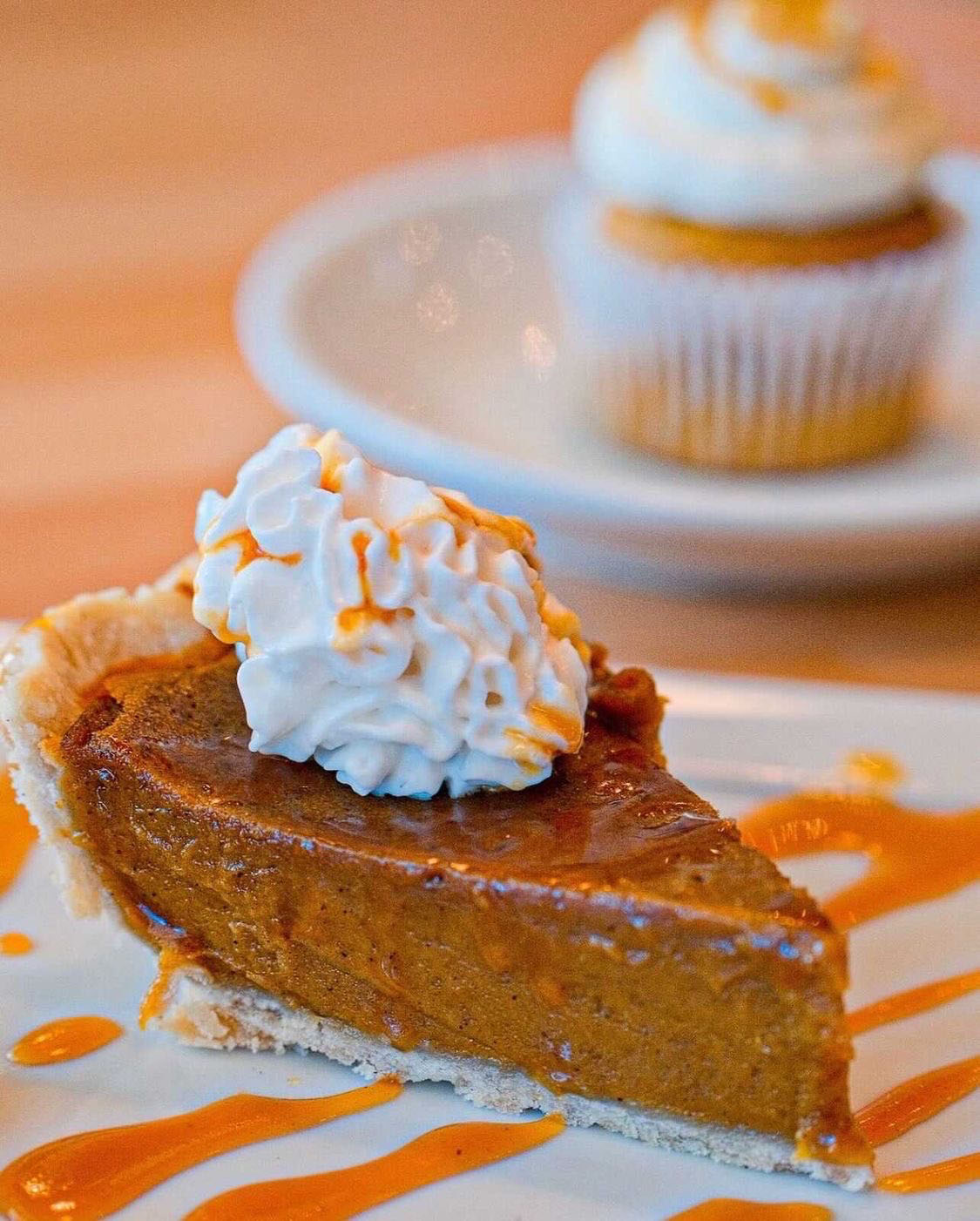 Culver City & Downtown LA
Who said pumpkin had to be used in desserts and drinks only? Shojin's Pumpkin Croquettes are proof that pumpkin really does belong in any dish. Each order comes with four crunchy and sweet croquettes with a side of tomato sauce for dipping. The Kiss of The Spider Woman 2.0 sushi roll is another pumpkin-filled dish to enjoy.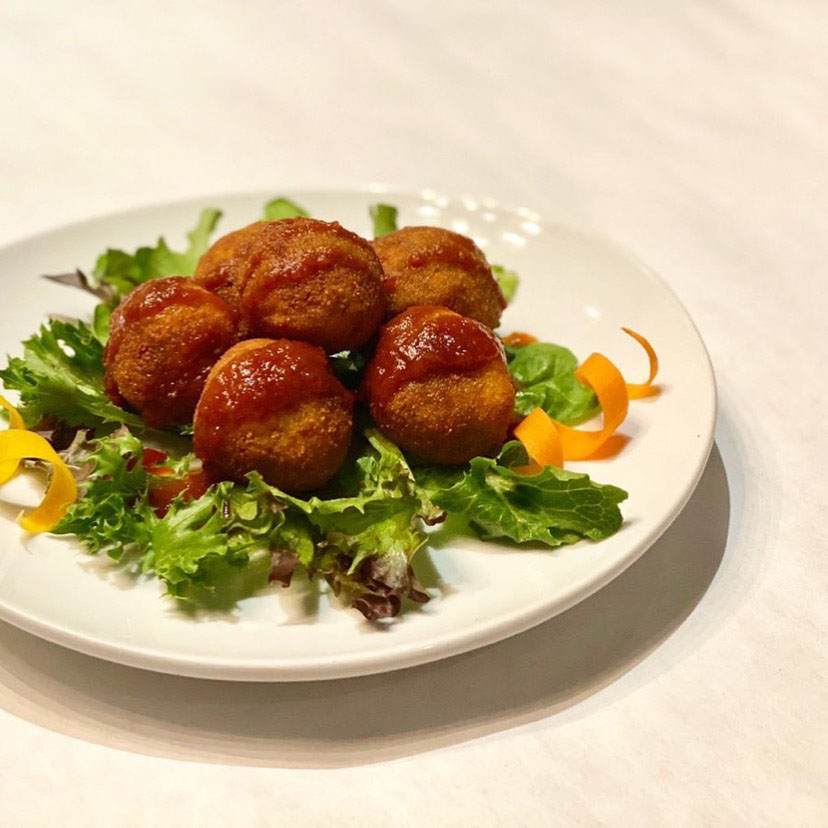 Huntington Beach
Vegan-Friendly
The Donuttery's Pumpkin Spiced Cake Donut is legit! Infused with cinnamon molasses, cardamom, nutmeg, allspice, and olive oil, these light and buttery pumpkin rings are the perfect treat to start your day with.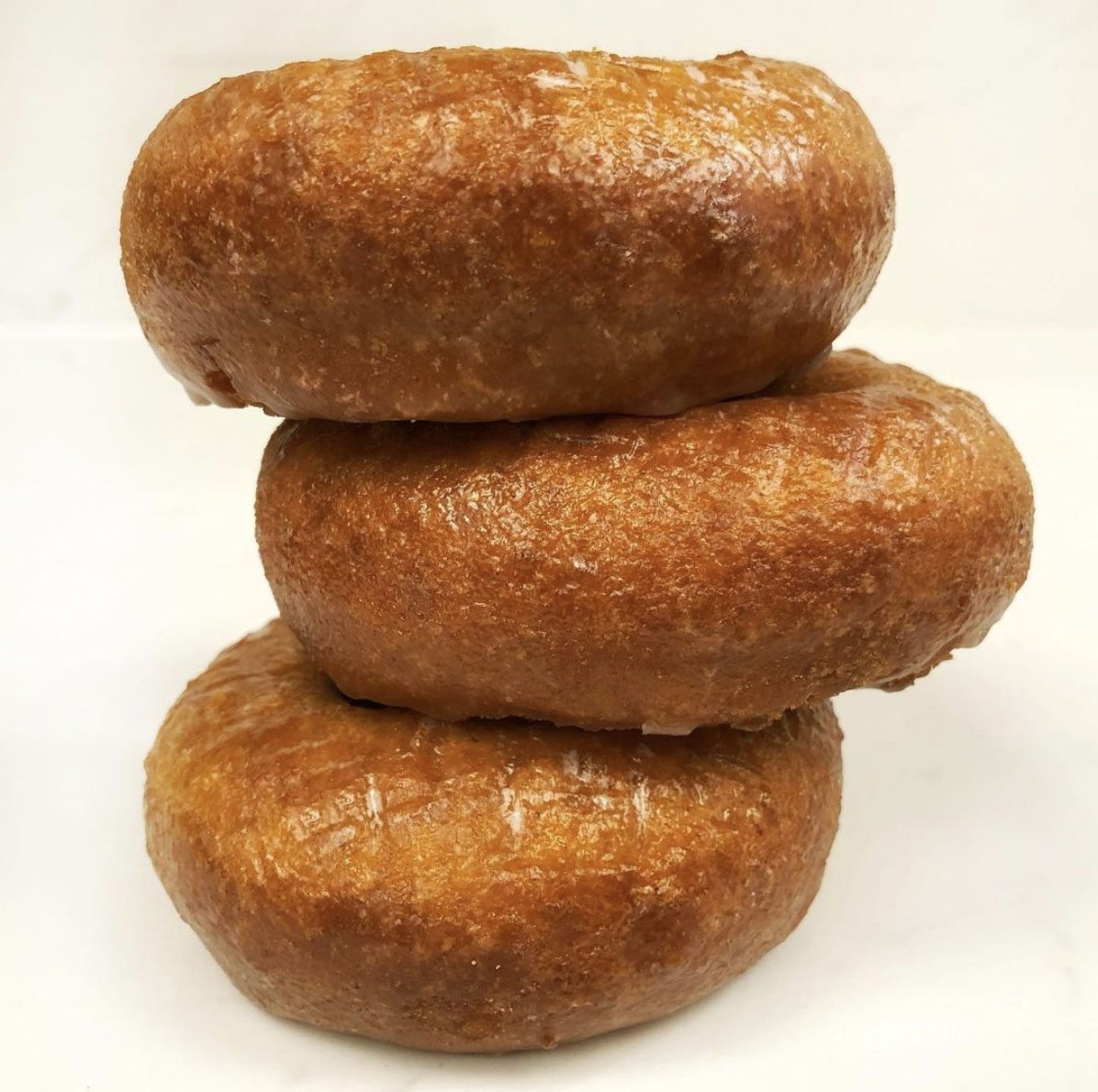 Covina & Upland
Vegan-Friendly
This edgy coffee shop is celebrating the spooky season with all sorts of vegan-friendly pumpkin drinks. Whether you prefer your pumpkin flavor in a latte, cold brew, horchata, or chai beverage, Rad Coffee has you covered! Be sure to request that your drink is made with vegan ingredients only.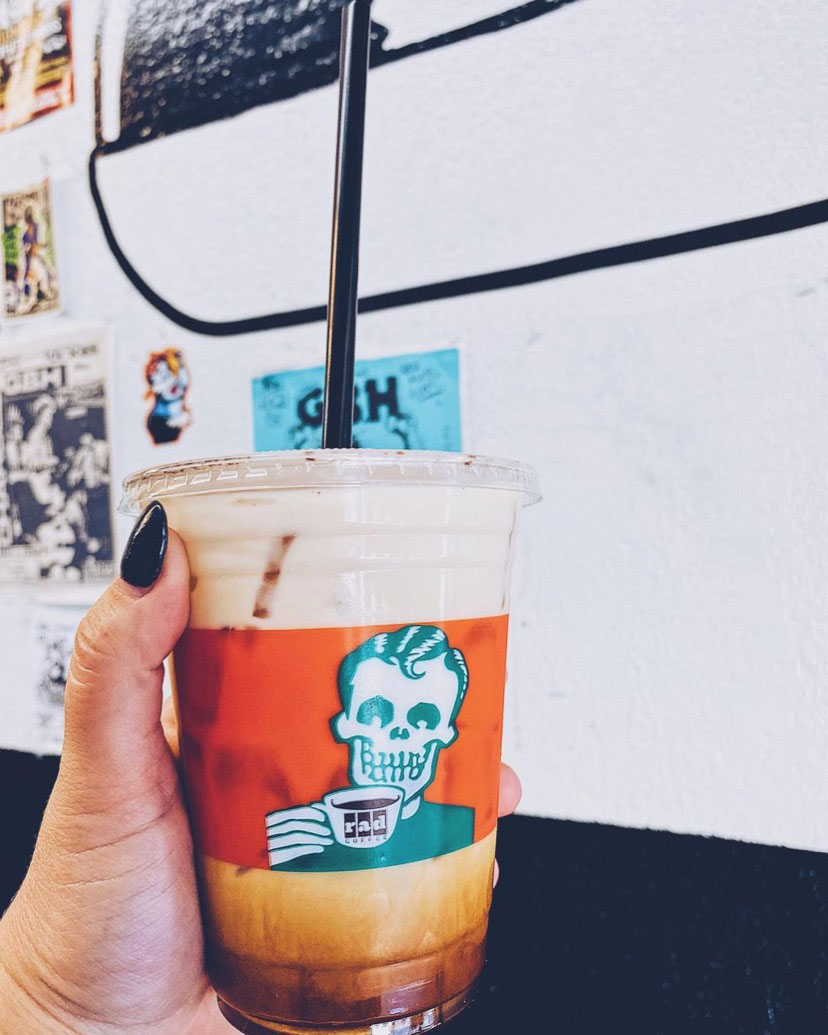 Pasadena
Vegan-Friendly
This bakery stocks many stellar options for plant-based peeps year round. But this season, they've got some exciting pumpkin-flavored treats! Full-size pumpkin pies and cheesecakes are available upon request, and we're crossing our fingers Lêberry Bakery brings back their Pumpkin Creme Brûlée Donut from last year!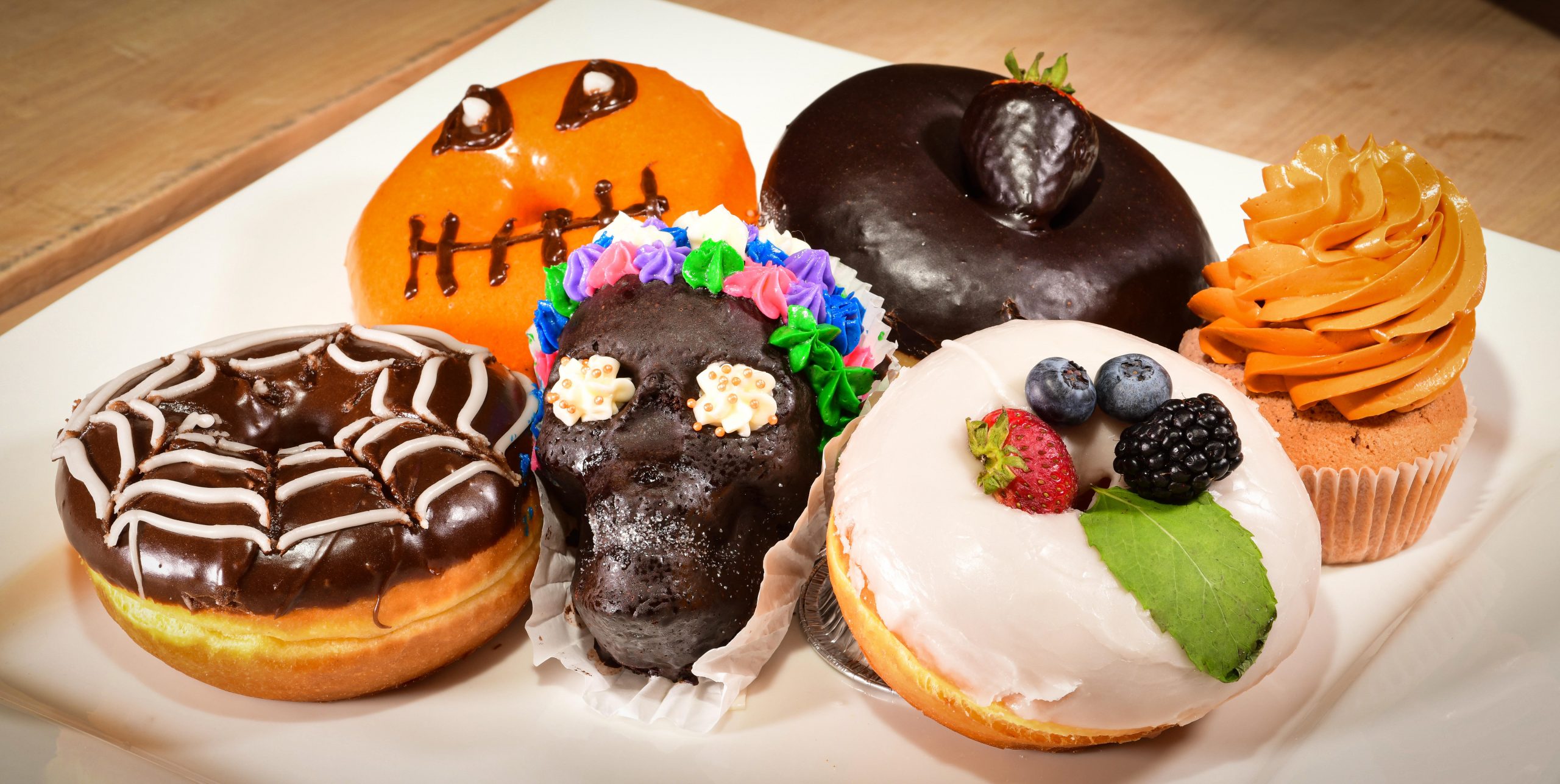 Culver City, Downtown LA, El Segundo, Hollywood, & Silver Lake
Vegan-Friendly
This popular artisan ice cream shop is welcoming the cool(er) weather with a Vegan Pumpkin Cinnamon Roll flavor. Composed of an oat milk base with spices, cinnamon roll pieces, and caramel swirls, this drool-worthy frozen dessert is one you won't want to miss!