This German-based grocery chain expanded to the US in 1976 and since then, has slowly gained a cult-following thanks to its innovative, house-brand products and affordable prices. Now with over 60 locations in California, and more plant-based options than ever before, this store has us getting in on the craze and filling our carts with these 18 vegan goods.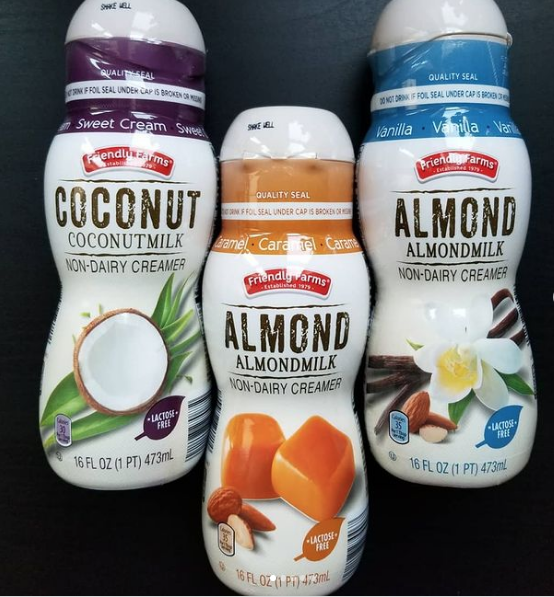 @aldivegan
1. Friendly Farms Non-Dairy Creamers
Fill your cart with these caramel, vanilla, and sweet cream almond- and coconut-based coffee creamers. Your morning cup of coffee will thank you!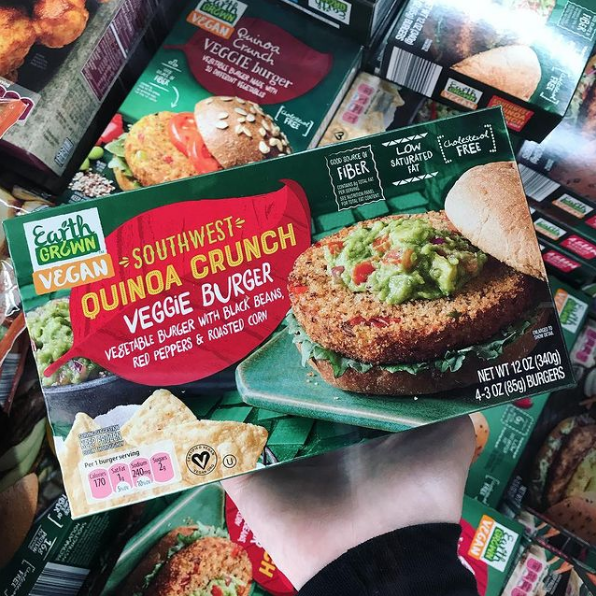 @mercyforanimals

2. Vegan Quinoa Crunch Burgers
Protein-packed black beans, sautéed red peppers, and roasted corn make up these thick, vegetable-loaded, crispy patties. We can't wait for grilling season.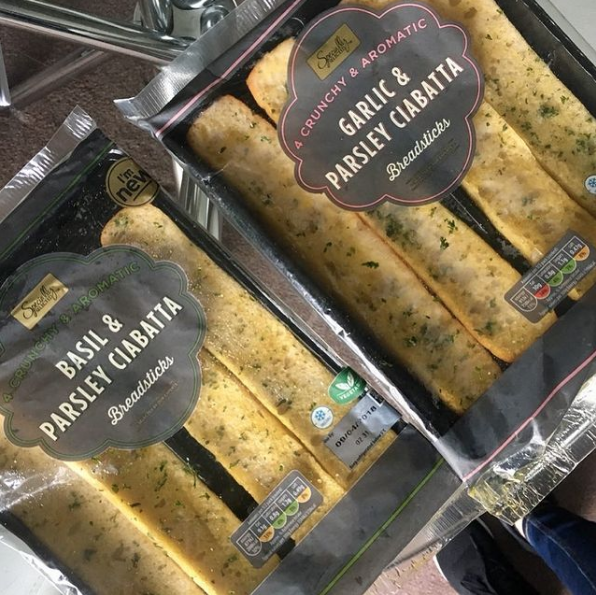 @lazzyvegan
3. Ciabatta Breadsticks
Accidentally vegan breadsticks? We're so here for that, Aldi. Choose between herbaceous basil and parsley or savory garlic and parsley to dip in zesty, saucy marinara for the perfect side to your pasta dinner.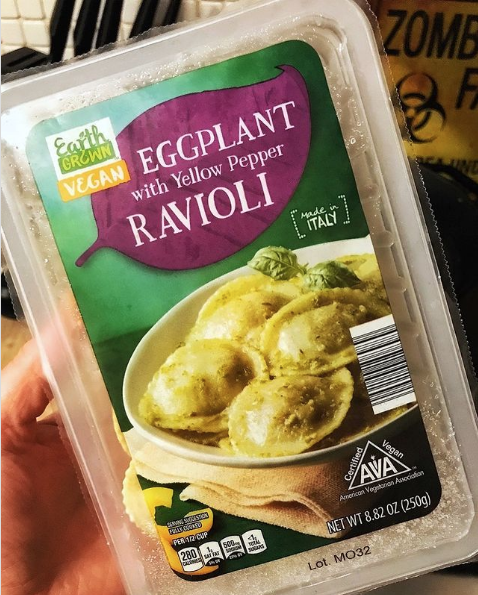 @theveganzombie
4. Eggplant with Yellow Pepper Ravioli
Toss these ready-to-go vegan raviolis in fresh, bright pesto for a quick weeknight meal that's sure to satisfy your craving for Italian food. Our tip? Sprinkle liberally with Violife vegan parm for the ultimate pasta night meal. 
5. Vegan Almond Milk Ice Cream
Don't let the almond milk base fool you; these ice creams are very, very creamy. We're pairing the Mocha Fudge with hot chocolate sauce, mini-marshmallows, and a pile of whipped coconut cream for the perfect sundae of our dreams.
6. BBQ Chickenless Burgers
Crispy breading and a delectable soy protein-based patty loaded with BBQ seasoning make for a burger fit for grilling season. Pile this up with even more barbecue sauce, onion rings, creamy slaw, and tangy pickles. You'll thank us later.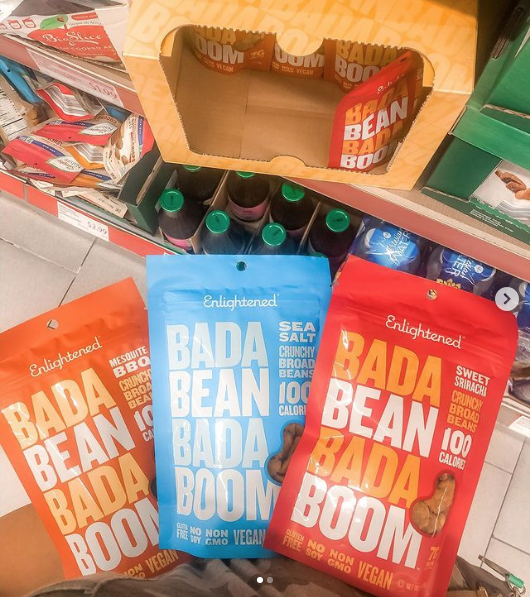 @aldi.mademedoit
7. Enlightened Foods Bean Snacks 
Mesquite BBQ, Sea Salt, or Sweet Sriracha? Either way you can't go wrong with these protein-rich, savory broad beans which make perfect road trip snacks. Stuff a couple bags in your desk drawers at work for when that craving strikes.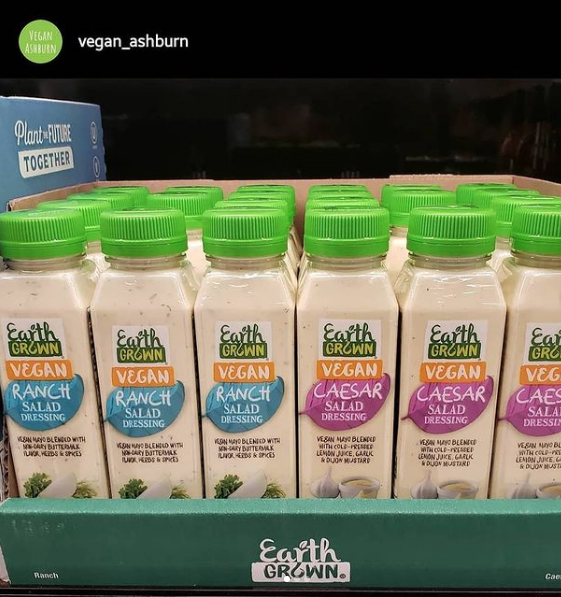 @aldivegan
8. Vegan Caesar and Ranch Salad Dressing
Yes, even Aldi has its own house-labeled, creamy vegan dressings! Even more important? It's only $4 per bottle! What a steal.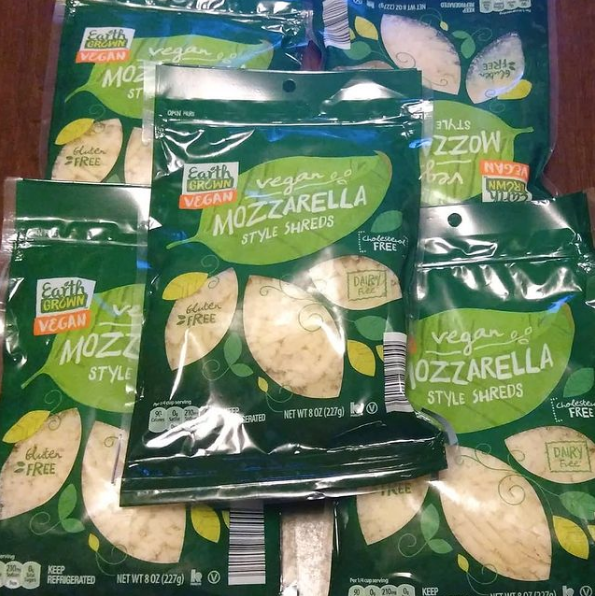 @biancaskitchen
9. Vegan Mozzarella Cheese
Pile these vegan cheese shreds on top of homemade pizzas, stuff them inside gooey quesadillas, and layer them into mile-high dips. However you eat them, these bags of cheesy goodness will soon become a staple for you.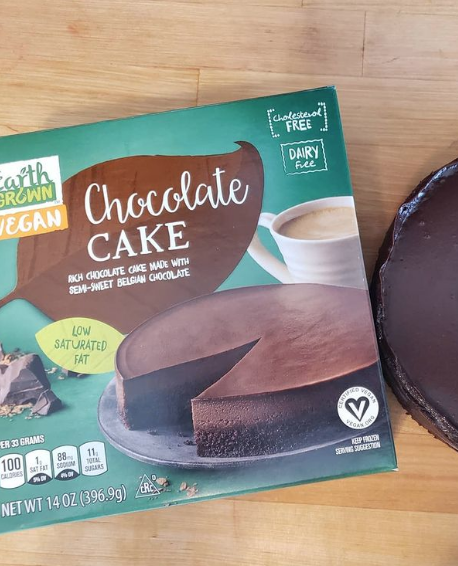 @detroitvegantwins
10. Vegan Chocolate Cake 
Deliciously fudgy, rich Belgian chocolate cake is just one grocery trip away. Pair this with a scoop of dairy-free ice cream for a perfect dessert!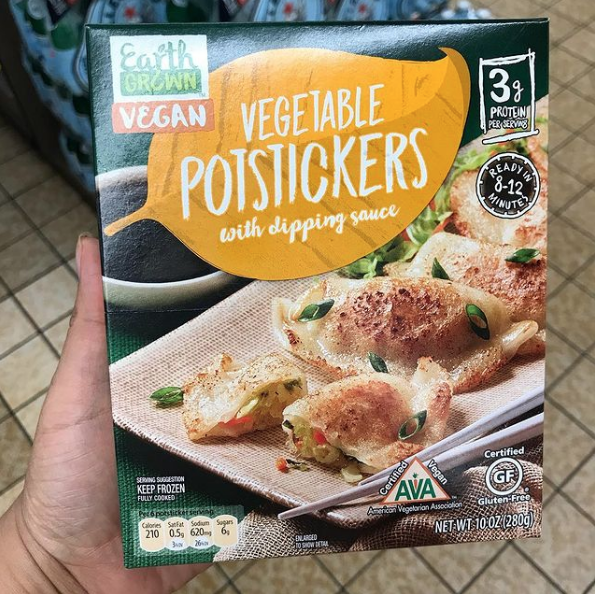 @thefoodduo
11. Vegetable Potstickers
Fry these delicious little pockets up to serve as an appetizer at your next dinner party, or toss them into a bowl with rice, avocado, and cabbage for a quick weekday meal. They take only 10 minutes to go from frozen blocks to golden brown and ready-to-eat.
12. Vegan Cheese Sticks 
Choose between Mozzarella or Cheddar breaded cheese sticks as a quick meal or midnight snack. Our personal favorite? Air fry them to perfection and then layer into a sub sandwich.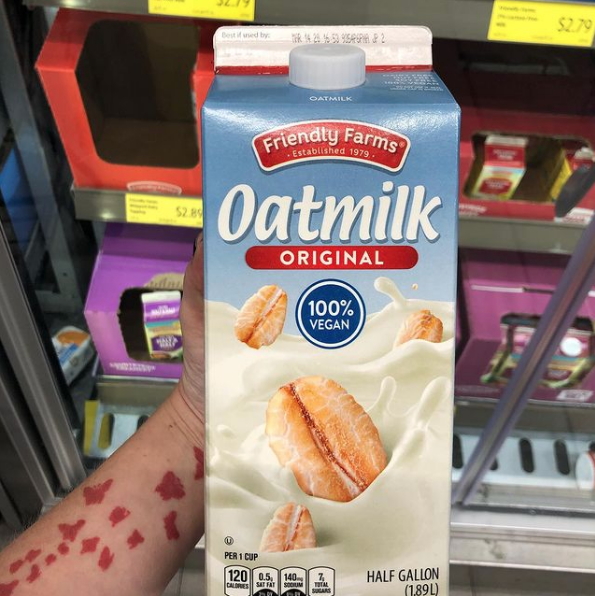 @thenofiltervegan
13. Oatmilk
Oatmilk is everywhere … including in the aisles of Aldi! Pick up a half gallon carton of Friendly Farms trendy dairy-free milk and pour it into your bowl of cereal, overnight oats, or bake into delicious sweet treats. 
14. Spaghetti with Vegan Bolognese
When you're rushing out the door to work, with no time to throw together a lunch, avoid the hangries and keep a few of these heat-and-eat, meaty bolognese pastas in your fridge. Each serving has 17 grams of plant-based protein to keep you satiated all day long.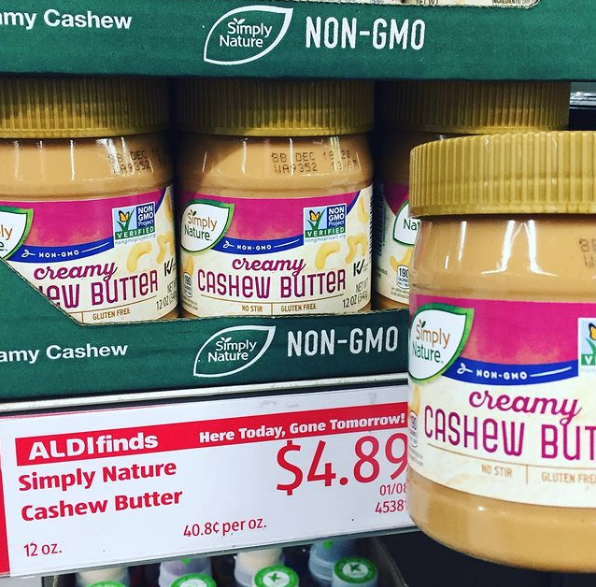 @aldifavoritefinds
15. Creamy Cashew Butter
Swap out your almond butter and peanut butter for irresistible creamy nut butter made from pure cashews. Spread this on your morning toast, top with fresh sliced bananas, hemp hearts, and a drizzle of maple syrup.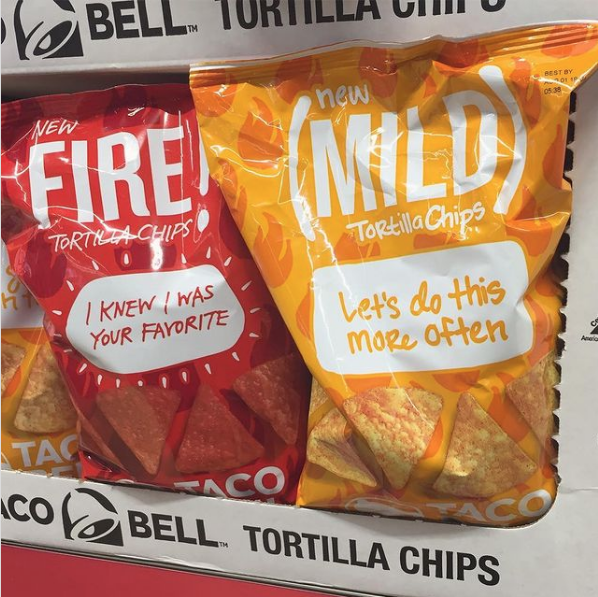 @aldiusafinds
16. Taco Bell Chips
This mega-popular-with-millennials fast-food chain debuted tortilla chips in their signature sauce flavors (Classic, Mild, and Fire) last year and now you can snag them on your next trip to Aldi.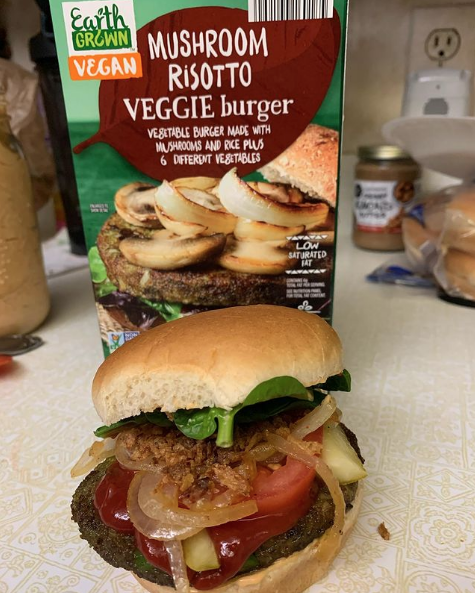 @vanessacooksvegan
17. Mushroom Risotto Veggie Burger
All the taste of creamy risotto in burger form! These tasty vegan burgers are packed with the nutrients and taste from six different vegetables and the satiating carbs from brown rice. Top these with more carmelized mushrooms and onions, vegan mayo, and fresh tomatoes for a tasty and quick meal.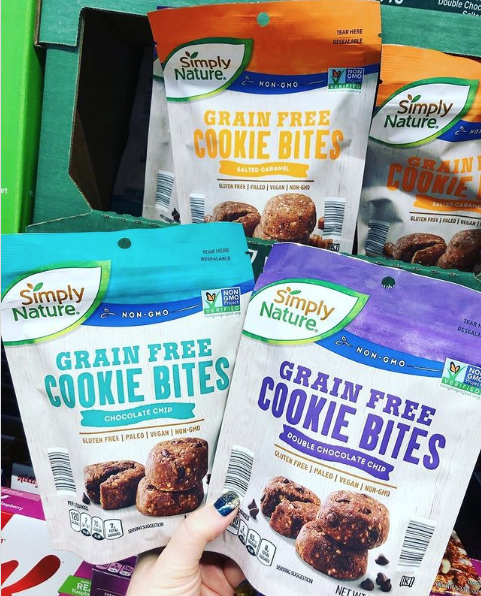 @aldiusa
18. Grain-Free Cookie Bites
Grab a few bags of these gluten-free double chocolate chip or chocolate chip vegan-friendly cookies before you hit the checkout line for a healthy way to satisfy your sweet tooth.  
Sarah McLaughlin is the New Products Editor atVegNews who can't wait to check out her local Aldi after compiling this list.
Love the plant-based lifestyle as much as we do? Get the BEST vegan recipes, travel, celebrity interviews, product picks, and so much more inside every issue of VegNews Magazine. Find out why VegNews is the world's #1 plant-based magazine by subscribing today!