It's that time of year again as thousands of Brits step up to the plate and embark on a cleaner, greener lifestyle by kicking off their new year's resolutions early and taking part in Veganuary.
As participants start to shed some of the holiday weight, they will have to find meat alternatives to their everyday meals as they will not be able to consume any animal products, including meat, fish or dairy until February 1.
Luckily, some of Manchester's tastiest restaurants have hopped on the herbivore bandwagon and rustled up a range of plant-based takeaways available for delivery.  
So whether you're a year-round advocate or a first time-tryer here's a list of Manchester's vegan hotspots you can enjoy from the comfort of your living room.
Vertigo
If it's strictly vegan restaurants you want, Vertigo on Cross Street is fond favourite serving everything from fry-ups to lunches this spot has got you covered. A personal favourite is the jackfruit chilli and the Persian stews made with slow-cooked aubergines; they even have a selection of vegan beers and wines to wash it all down with.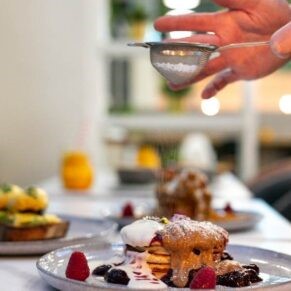 BrewDog
Believe it or not, but popular brewery BrewDog are making some of Manchester's best vegan eats in town. Try their 'Beyond Meat' burger with a beef-like patty, cheese and beetroot bun, or the 'Temple of Seitan' with faux chicken, tomato chutney and hummus.

Pieminster
Have a craving for a hearty pie but can't find a good plant-based option? Pieminister are delivering delicious a range of meat-free bakes from the Northern Quarter to your sofa. Choose between their 'Meatless Moo' with jackfruit steak, 'Kevin' with mushroom and red wine or the 'Mock-a-Doodle' with tofu chicken.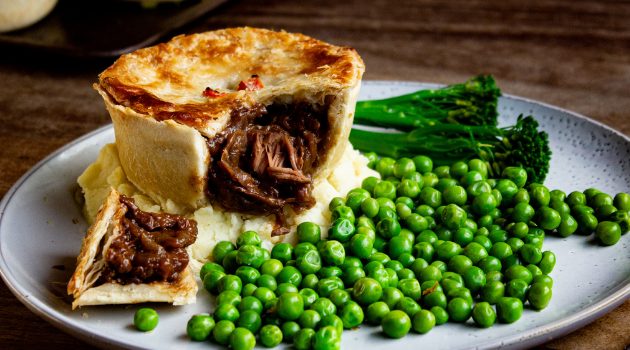 Mughli Charcoal Pit
Would it be a top 10 vegan list without a stand-up Indian? I don't think so and Mughli Charcoal Pit will not disappoint. They cater to all kinds of dietary requirements with a diverse menu of Indian classics, with a specifically dedicated veggie section for the menu featuring biryanis, daals and raitas.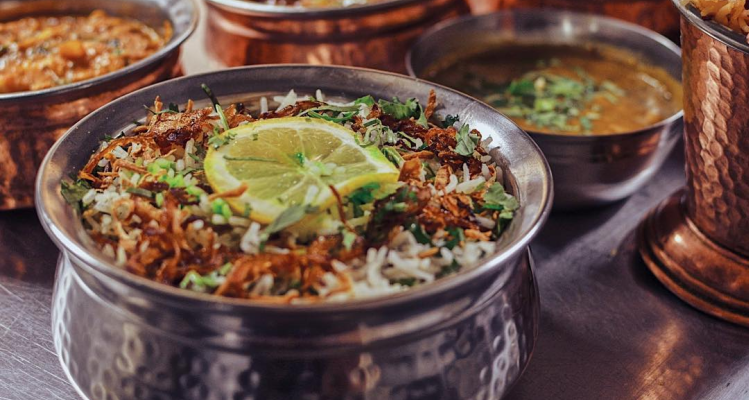 Absurd Bird
This one gives KFC a run for their money without the guilt it comes with. Absurd Bird is the perfect alternative to fried chicken dinners without the actual chicken for that Friday night treat. Pick from their vegan burgers like the 'Korean BBQ' and the 'Nashville and Buffalo' with tenders, fries and coleslaw.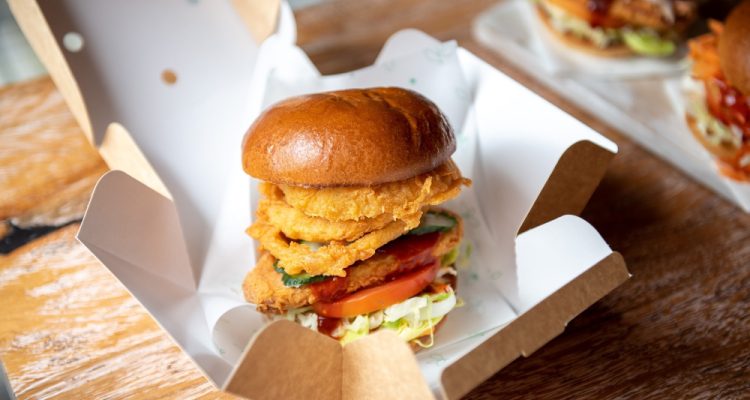 Veganism in the UK
The UK has seen a surge of people making the decision to become vegan this year, with a 62% increase in veganism in the last 12 months alone. 
Which is why SaveOnEnergy has investigated which city is the most vegan-friendly city in the UK, which, surprisingly enough, isn't London.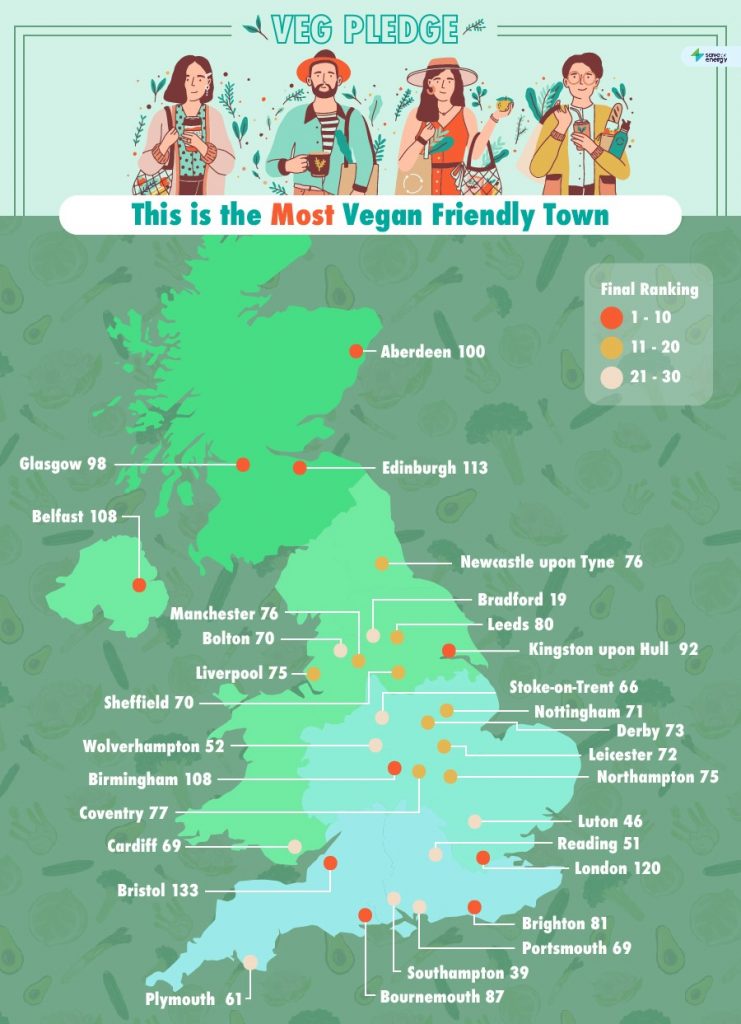 The North has made its stamp on the vegan map with Bolton coming in as the third city in the UK to have the most vegan-friendly restaurants and eateries, with a staggering 223 followed closely by Aberdeen with 226 and London with 286.
And as of this year, Manchester has been ranked in the top 20 vegan-friendly cities in the UK, hosting more than 170 compatible restaurants and eateries and almost 16,00 vegan searches a month.
V – Rev Vegan Diner
We've hit the jackpot for vegan junk food lovers which delivers drool-worthy meals across Manchester. Based in the Northern Quarter, V-Rev is renowned for it's California-inspired burritos, stacked burgers and dairy-free Mac and Cheese with a bountiful of sides to top it all off.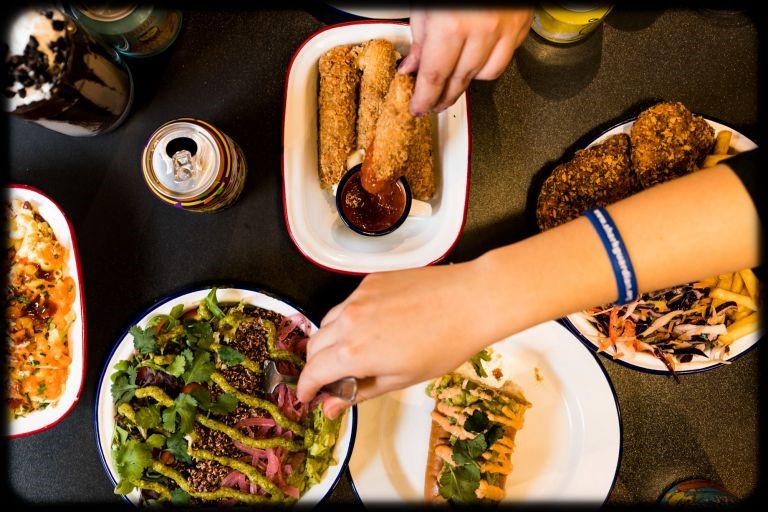 Honest Burgers
For burger lovers who are missing a classic takeaway, Honest Burgers have got just the thing for you. With their Plant Burger already a popular menu staple, this month they released the Tribute to Jamaica burger. In collaboration with Jamaican vegan kitchen, Dee's Table, it combines a plant-based patty with Dee's Table's apricot and scotch bonnet ketchup, THIS Isn't bacon, vegan smoked gouda, plantain fritters, Jamaican curry 'mayo' and lettuce and is available until February 1.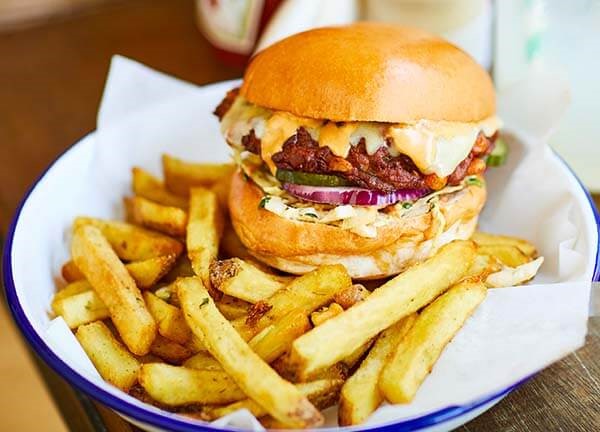 My Thai Vegan
As the name suggests, this is a must-have for all vegans in and around Manchester with their delivery service working on overdrive this month. A staple favourite is their classic noodle dishes like 'Pad See Ew', 'Pad Kee Mow' and 'Paw Thai' all topped with crispy tofu and fresh chilli.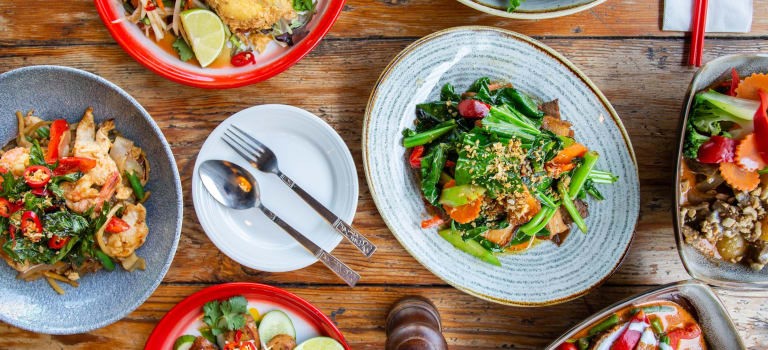 Proove
If it's pizza you've got a craving for, Proove are delivering fresh slices straight from the ovens in West Didsbury to your doors this month. They have a range of vegan specials including 'Il Parata' with jackfruit, olives and tomato, 'La Greca' with hummus, mozzarella and artichokes, and 'The Veggie Calzone' if you want to switch it up a little.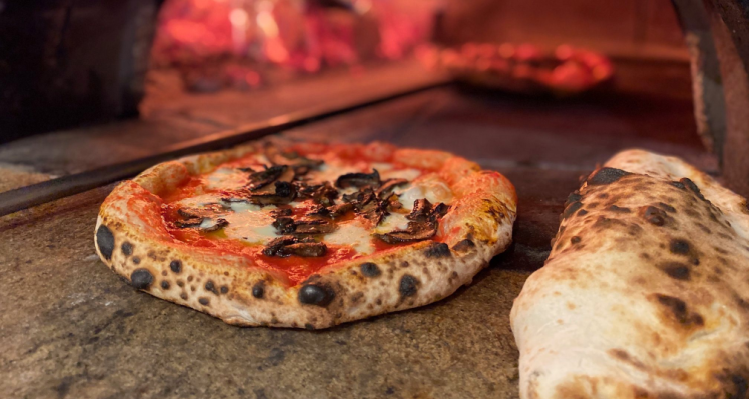 Federal Café & Bar
Coming in at number ten, you can now set up your very own boozy brunch at home with Federal, who are now delivering their outstanding breakfast dishes to your door. While options may be limited to acai bowls and bagels stuffed with mushrooms and avocado, it's a great go-to if you're planning a meal with your meat-eater friends.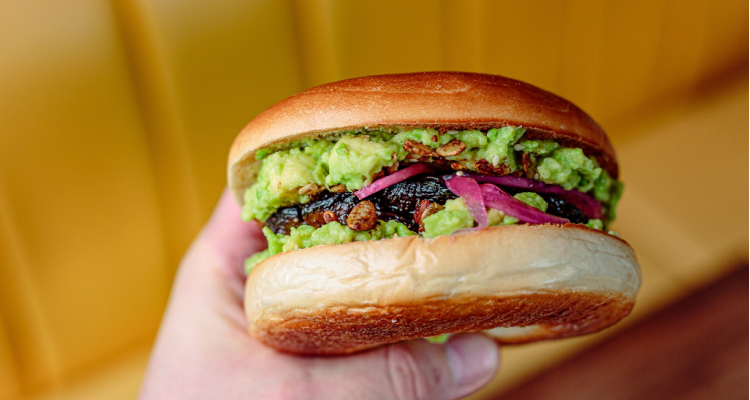 To find out more on SaveOnEnergy's latest vegan research, click here.
Main photo: Image by Gerhard G. from Pixabay